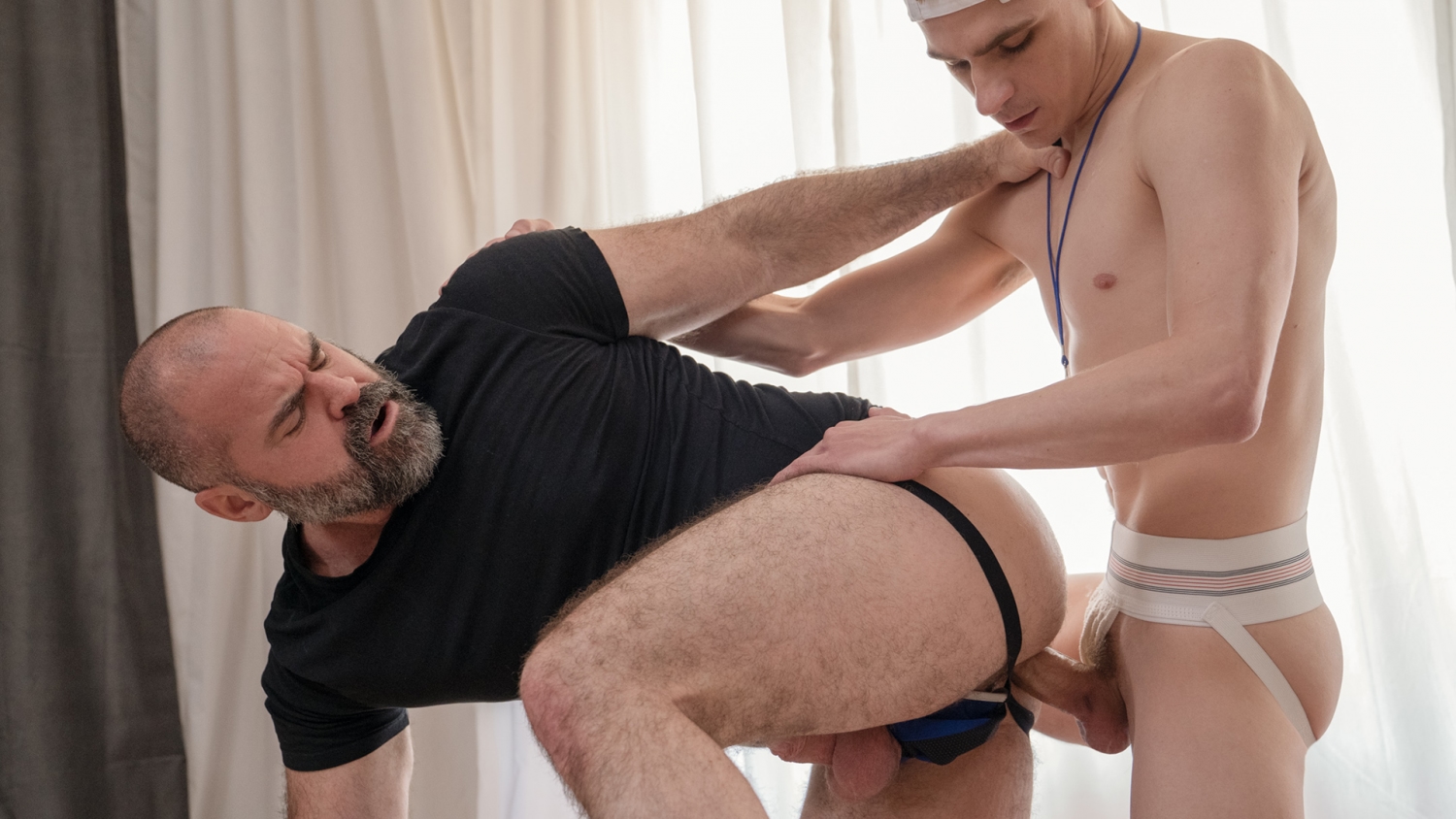 Top Training
After last week's encounter, Coach Angus is certain that Marcus has what it takes to be an outstanding top, so he puts his whistle lanyard over Marcus' head and tells him, "You're gonna be in charge today." With a cocky smirk, Marcus starts instructing his coach to do push-ups and then holds his feet for his coach to do sit-ups.
Fuckin twink is ...
Read more
Fuckin twink is getting me hard already, Coach Angus thinks, touching the rigid outline of his thick cock in his tight shorts as he stands. As Marcus muses on what to do, his hands reach for the older man's zipper. Coach's thick cock bounces free as his shorts come down, having escaped the waistband of the tiny jockstrap he wore just for Marcus.
"Can't even hold it in," Marcus mocks as he tucks Coach Angus' cock away and presses on the man's taint to elicit a moan. He pulls the coach's cock out to suck it briefly, before putting it away again and telling him to turn around.
Little fucker is a tease, Coach thinks as he's told to touch his toes. It's not until Coach Angus is on all fours with Marcus' tongue in his hole that he starts to praise his young trainee for taking control. Marcus lets his own big, heavy cock out of his jockstrap to stroke while he gets Coach Angus ready to be his wide receiver, and Coach is soon begging for Marcus' cock after all the teasing.
Coach Angus starts moaning and pressing back onto Marcus' cock as he enters him slowly. Marcus flexes his cock when he's about halfway in, to stretch coach out before pressing deeper to the thickest part of his shaft. Seeing his authority figure in a state of total submission and completely impaled on his big cock makes Marcus chuckle, and he gets more aggressive with his thrusts.
Marcus leans in to kiss Coach Angus in missionary position, lifting up coach's ass to pile drive him. That gets Coach Angus jerking his big, thick cock furiously, moaning and grunting with increasing intensity as Marcus hits him deep. Coach is cumming in no time and Marcus continues to thrust until he blows his own load deep inside coach's tight ass.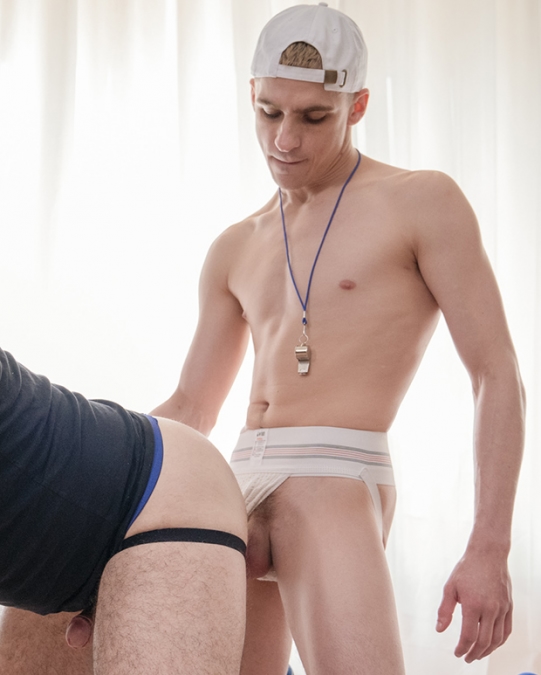 Coach Angus is all about guidance and training. He loves being a father figure to many of the young guys he works with each year, hoping they know that they can come to him for any reason. With his big, furry chest, beard with hints of salt and pepper, and massive legs, he's often seen as a big muscly teddy bear. And while he's happy to smack their asses as they come off the field, most of them can't help but wish for more. Indeed neither can he.

He fantasizes about his young, smooth players building up a sweat as they play their hardest! He sees these young guys as being in their prime, ready to take on the world and try new things. He can't help but sniff their sweaty jocks, thinking of their cocks getting hard after a good game, needing something to fuck and release into. He fantasizes about his players loading up his strong, hairy, muscle ass, and showing his boys a good time. After all, he's their coach, and he's going to be there for whatever they need!

Marcus is a bit shy. He may be soft-spoken, but that doesn't mean he doesn't have desires just like everyone else! And nothing turns him on like a hot, handsome daddy... All his life he's been a bottom, but as he's gotten older and more sure of himself, he feels the need to breed take over him more and more!

And while he may want to try experiencing sex as top, his interest in big, beefy daddies hasn't changed. Luckily, the more time he spends with his coach and teammates, the more he sees plenty of opportunities to break out of his shell and get his dick deep in hot, daddy hole!