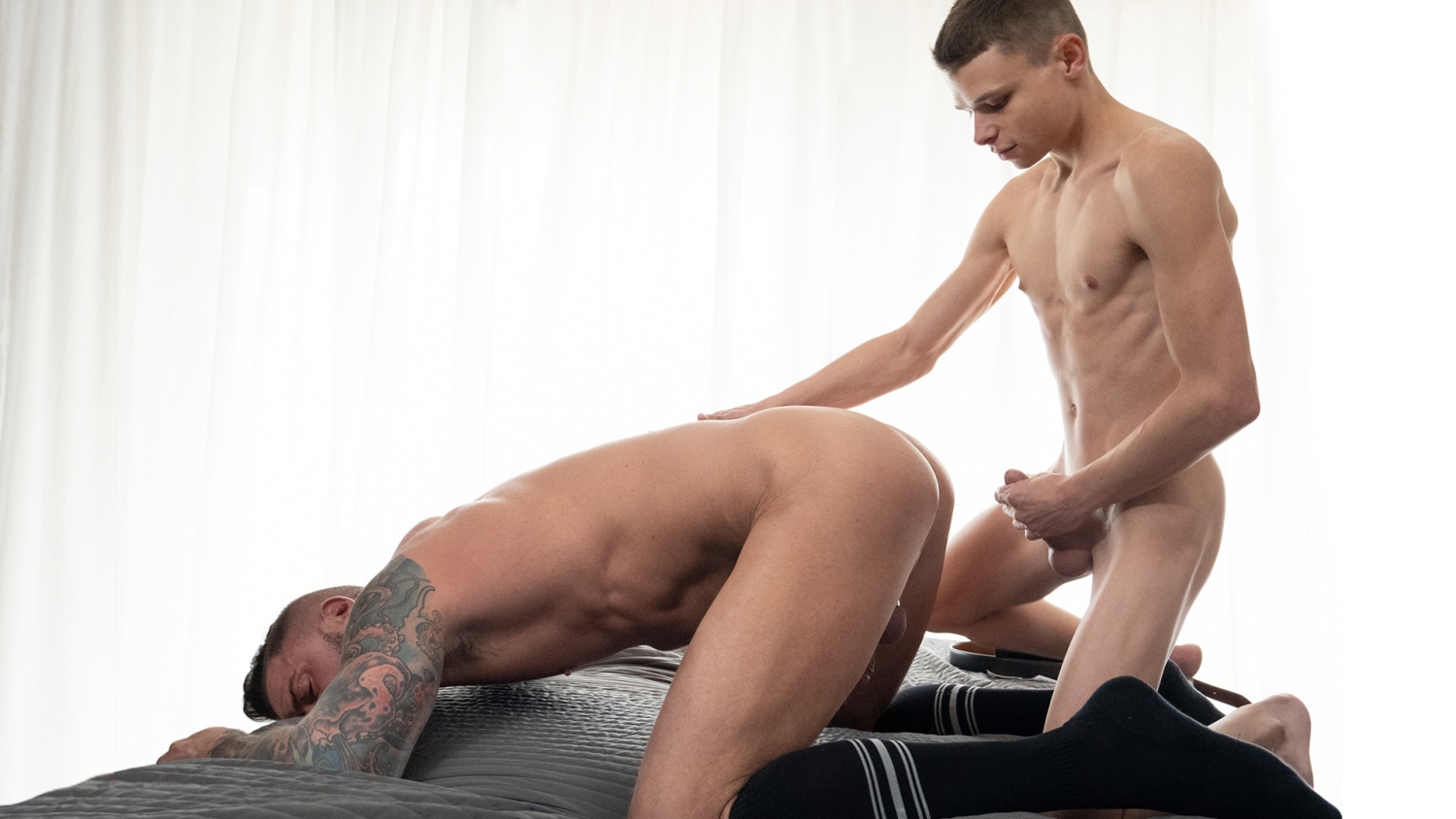 Top Training
Austin has always been on the smaller side, but that's never kept him from trying to accomplish his physical goals! Even on his team, his diminutive stature has only made him work harder and longer to be better. This drive is something that his trainer, Mr. Dietrich, was able to spot the moment he saw him in action.
The little guy's ...
Read more
The little guy's passion and enthusiasm was hard to resist, compelling the older man to take an interest in the shorter, slimmer jock. Trainer Dietrich is constantly working with young men to help them reach their potential, but in Austin, he saw a lot more than just a strong team player.
Throughout the course of their exercises, Trainer Dietrich would keep an eye on Austin, watching how his lean muscles worked and how his body moved.
His cute little butt would certainly draw him in, but his swinging bulge would always distract from his work.
Mr. Dietrich was a tall, handsome man who never had a problem getting laid, but given his size and his appearance, he's always been the perfect fantasy of a daddy to the young men he encounters. As much as he loves giving his bare cock to a hungry bottom, he loves the idea of getting plowed by a little guy with a monster member...
After one particular exercise, Austin was packing up his stuff when his trainer stopped him to make sure he stretched out, warning Austin that he would feel stiff if he didn't. The flirty innuendo definitely piqued Austin's interest, leading the young man to seek his trainer's assistance. The two ended up on the floor, bodies locked together as the older man stretched out Austin's legs and thighs.
Mr. Dietrich could see the boy getting excited as his loins swelled up to a noticeable size. The trainer ended it promptly, noting that the boy had quite an impressive piece that he'd love to see in use. It was a bold move, but Austin was clearly receptive, blushing and getting even harder. His trainer planted a kiss on him and told him he could stop by his private room anytime for a little extra curricular fun.
Austin couldn't stop thinking of his handsome trainer. The next day, he felt his loins ache for attention, leading him to take him up on his offer. As soon as he opened the door, he saw the handsome guy on his bed, working away on his computer. His dark features were stunning and enticing, sending all Austin's cock straight up...
Trainer Dietrich smiled as he saw his handsome athlete walk in, happy to see him reciprocate the desire. He was so handsome that he couldn't hardly keep his wits about him. He wanted to taste him and to feel his beautiful body. And without hesitation, the older man leaned in and kissed him, pressing his lips to Austin's as the young man practically felt his heart stop.
The two began to grope each other, running their hands over each other's flesh, taking off their clothes, and feeling their lean, athletic bodies. Austin admired his trainer's perfectly toned chest, feeling his intense strength and heat as he kissed around his nipples. Mr. Dietrich admired the boy's milky white skin and continued down his torso, revealing his flat stomach.
Pulling out the boy's cock, he could feel it pulse in his hand. A small stream of pre-cum escaped from the tip, glistening in the sun as it caught the light. The trainer leaned down to taste it, taking the boy's cock in his mouth. It was so large and full, he thought about the boy's tenacity and strength on the field, eager to see that fire come out in the bedroom!
Austin looked down at his trainer, watching as he swallowed his meat. His eyes ran the length of his body, amazed by the span of his torso and legs. He must have been at least a solid foot taller than Austin, but he worshiped his cock in a way that made him feel strong.
Mr. Dietrich's meaty ass filled out his briefs. Austin wanted to fuck him badly, to feel his shaft slide inside his muscular body and pump him full of cum! The very thought made his balls tighten as if they could explode then and there. Instead, he ran his hand over his trainer's smooth ass, teasing his hole as his cock bobbed in and out of the older man's mouth, waiting for the right moment to slide his wet tool in the daddy's tight, hungry hole...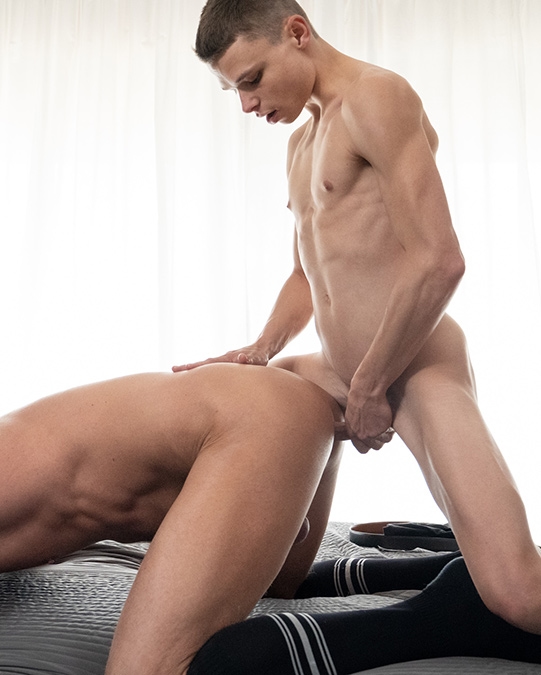 Austin is a sexy, little guy with almost no hair on his body, except for what grows on his head! And given how much he likes bottoming, he didn't mind the presumption that he would bottom whenever he had sex. He was, in fact, very happy taking big cocks up the ass! But despite stereotypes about his size and tight-bodied twink physique, one day while watching porn, he found himself unexpectedly getting turned on by the thought of topping.

Watching sexy daddies fuck smooth little twinks, Austin got horny for the big, muscle butts of the daddies. Even as they were fucking the whimpering little guys, he didn't just admire their strength and size, he imagined what it would be like to feel his cock slide into those beefy asses. And suddenly he wanted nothing more than to give it a try! Austin has had a lot of fun pumping young loads into sexy men who love taking a good pounding from this little twink top!

Trainer Dietrich is tall, tan, tatted, and toned. He's got a beautiful body that drives his clients wild! He insists he's just trying to stay in shape, but deep down he loves the attention he gets. Whenever he's helping someone in the gym, he's always aware when they can see his overflowing jock up the wide legs of his shorts; giving anyone who peeks a glimpse of his smooth, round ass and big bulge.

He loves fucking and breeding other muscular daddies, throwing around his size and strength in a playful show of dominance... But as much as he loves being on top, he also loves when a young, lean bottom finds their own strength inside his tight hole. He believes deeply in bringing out the best of those he's with and seeing them reach new heights. Nothing is hotter than seeing a young, smaller guy feel like a titan as he cums inside his ass!