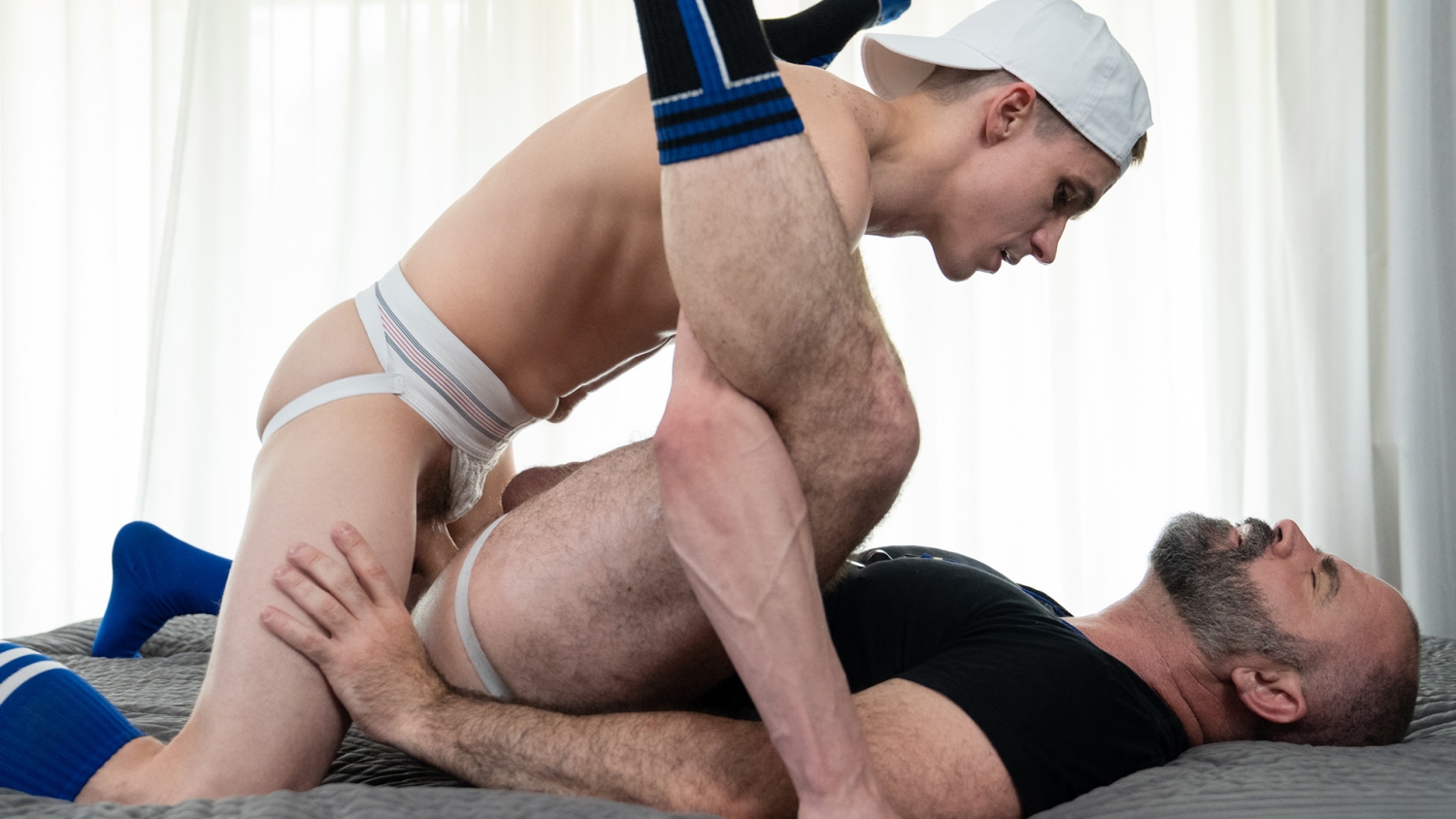 New Recruit
Young jock, Marcus, has had a crush on his coach since the moment he first saw him! His big strong body was covered in manly hair, complementing his salt and pepper beard perfectly. The beefy man had a broad chest and thick thighs that drove him wild. Marcus knew he needed to find a way to be alone with him! Luckily, after one long practice, he found just such an opportunity...
...
Read more
Marcus had run quite a bit, really working out his legs. Stepping into the coach's office, he told the older man that he was feeling extra tight in his legs and needed some assistance.
Angus was quick to offer his help in getting the boy good and limber, giving Marcus the chance to be up close with the big daddy.
On his back, Marcus watched as Angus held his legs up, stretching them toward the ceiling as he put the weight of his body up against his own. He had great control over Marcus' extension, making it push just enough to give him a good stretch. Marcus knew he had to focus on his breathing, but all he could think about was the handsome man's crotch pressing harder and closer toward his loins.
Marcus could feel the heat coming from the coach's genitals, making his own cock rise inside his jock. As the coach switched up his routine, he turned Marcus over, removing his shorts to give him better access to the boy's muscles as he massaged them. As the muscular man worked his body over, Marcus couldn't help it as his cock grew even harder between his stomach and the bed!
Little did he know, the coach was taking extra liberties with his massaging, caressing deep into his thigh muscles as he worked his way up toward his crotch and into his balls. Marcus moaned as he felt the man's caress his nuts, giving him a full chub that could not be ignored...
Coach Angus saw the boy's massive erection, pulling it out to give it a gentle tug, sending the boy into a frenzy of excitement! Marcus' cock throbbed, desperate for more, aching to cum. Marcus looked up at his coach, who in turn asked if he could stretch him out as well. Eager to get his hands on the beefy man's body, Marcus agreed.
Angus got on his back as the boy stretched out his legs, opening himself just as Marcus had. Marcus' big cock pushed into the coach's groin, leaking at the thought of fucking him. He took off his coach's shorts, getting a good look at Angus' big, meaty legs and massive bulge. His jock was practically ready to burst from the size of his cock and balls, making Marcus even more aroused and ready for action!
Marcus placed his cock between his coach's ass cheeks, amazed by how strong and big they were. He'd never seen such a real man's ass before, loving the way his cock looked as he began to slide it inside. He teased it with his shaft, watching as the older man gave him a yearning look to be bred.
With a careful push, Marcus felt himself fall into the big man's hole, becoming engulfed in his muscle bear ass. Inch by inch, Marcus made his way inside Coach Angus, feeling his balls swell up with seed, just waiting to be released...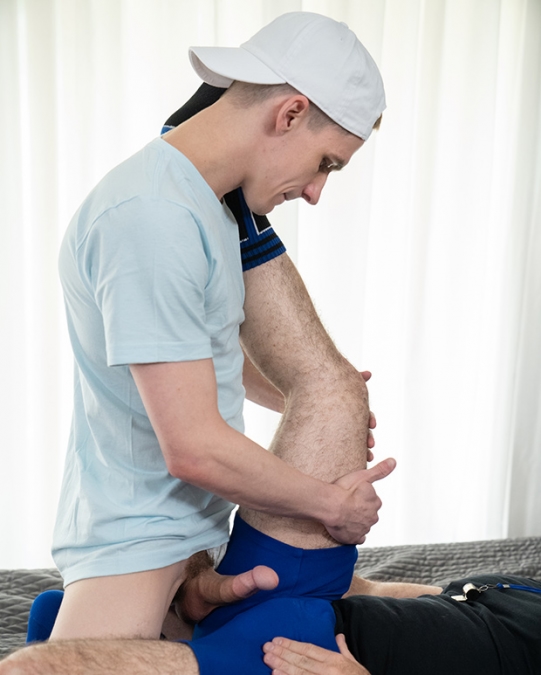 Coach Angus is all about guidance and training. He loves being a father figure to many of the young guys he works with each year, hoping they know that they can come to him for any reason. With his big, furry chest, beard with hints of salt and pepper, and massive legs, he's often seen as a big muscly teddy bear. And while he's happy to smack their asses as they come off the field, most of them can't help but wish for more. Indeed neither can he.

He fantasizes about his young, smooth players building up a sweat as they play their hardest! He sees these young guys as being in their prime, ready to take on the world and try new things. He can't help but sniff their sweaty jocks, thinking of their cocks getting hard after a good game, needing something to fuck and release into. He fantasizes about his players loading up his strong, hairy, muscle ass, and showing his boys a good time. After all, he's their coach, and he's going to be there for whatever they need!

Marcus is a bit shy. He may be soft-spoken, but that doesn't mean he doesn't have desires just like everyone else! And nothing turns him on like a hot, handsome daddy... All his life he's been a bottom, but as he's gotten older and more sure of himself, he feels the need to breed take over him more and more!

And while he may want to try experiencing sex as top, his interest in big, beefy daddies hasn't changed. Luckily, the more time he spends with his coach and teammates, the more he sees plenty of opportunities to break out of his shell and get his dick deep in hot, daddy hole!