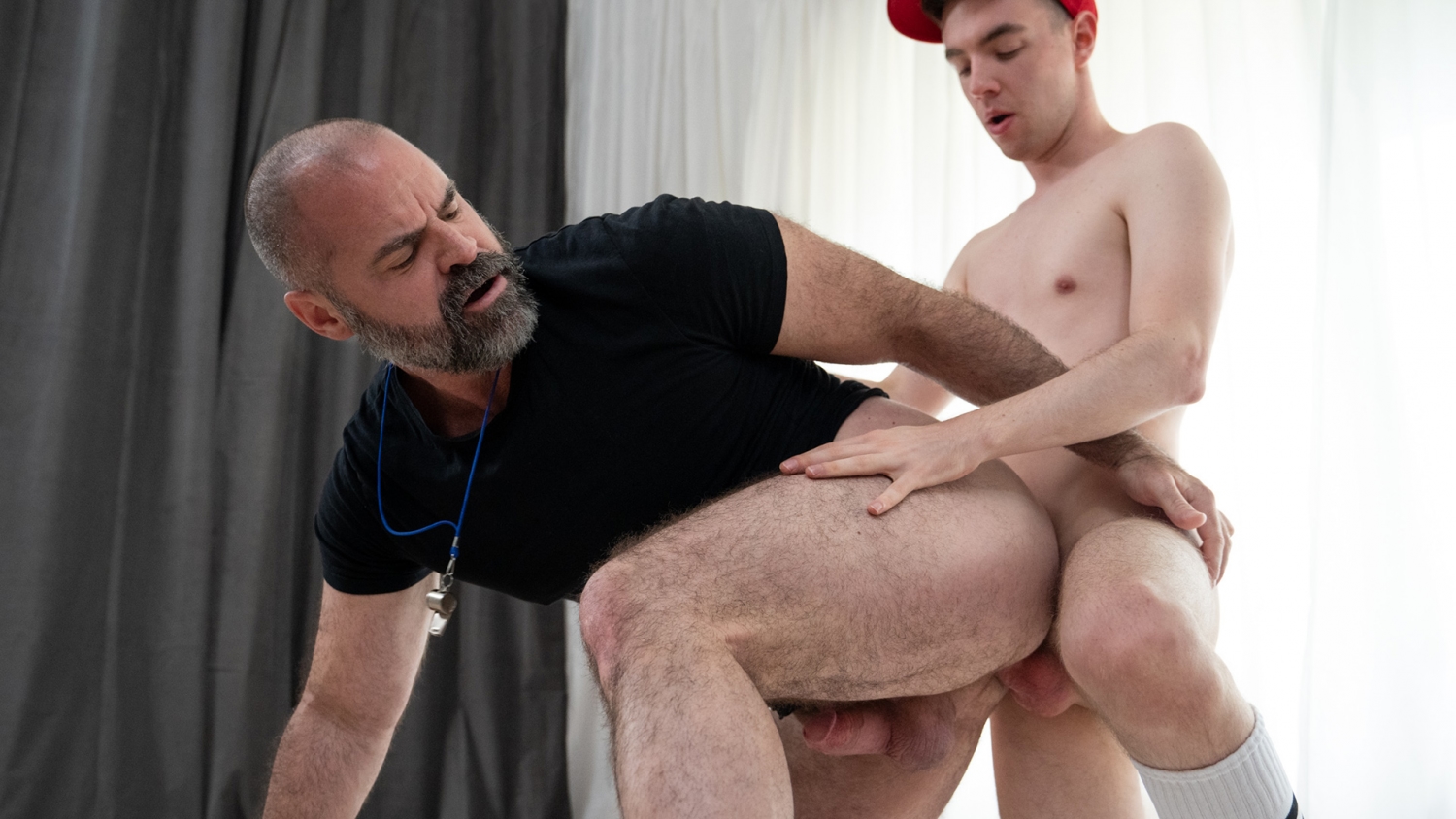 New Recruit
Coach Angus can't get enough of boys like Lucas. With his lean frame and boyish good looks, he is enthralled by his youth and energy... And not to mention his big bulging cock! After a little workout to get the heart pumping, he offers his fresh-faced friend some extra release.
Lucas couldn't deny ...
Read more
Lucas couldn't deny his attraction to the beefy coach. His broad chest, furry arms, and full beard made him look like a daddy in an erotic cartoon! He loved his frame and presence, especially his firm, muscular ass. And when Coach Angus pulled him close, his cock immediately swelled up inside his jock...
Angus could see the boy's excitement, pulling down his shorts and underwear to take the young man's thick member into his mouth. It tasted perfect! The boy's sweaty exertion only made it even sweeter on his tongue. He sucked on it, cradling the boy's heavy nuts in his hand as his lips worked it up and down.
As Agnus watched the boy's breath become heavier, he could tell he needed to fuck! He placed the boy on the floor and turned himself around, giving him a closer look at the hole deep between his big ass cheeks. Lucas' mouth watered, staring at the man's tight hole, desperate for a taste. He leaned his neck forward, pressing his face between his meaty man mounds, licking at him with intensity and fervor that made Coach Angus moan onto the boy's cock!
All it took was a few laps of his sphincter before Lucas was ready to mount up on him, feeling his rock hard shaft press between cheeks. Lowering himself down slowly, he watched with great delight as Lucas' face reacted to the feeling of his hot hole wrapping around him. Once he got past the head, Lucas was mouth agape, overcome from the intense pleasure the older man was giving him.
This was everything Coach Angus loved about being fucked by young guys! Their excitement. Their enthusiasm. Their natural talent for getting hard and loading up a tight hole. He was determined to milk him and carry his load inside. And he could see from the fire in Lucas' eyes that he wanted the same thing...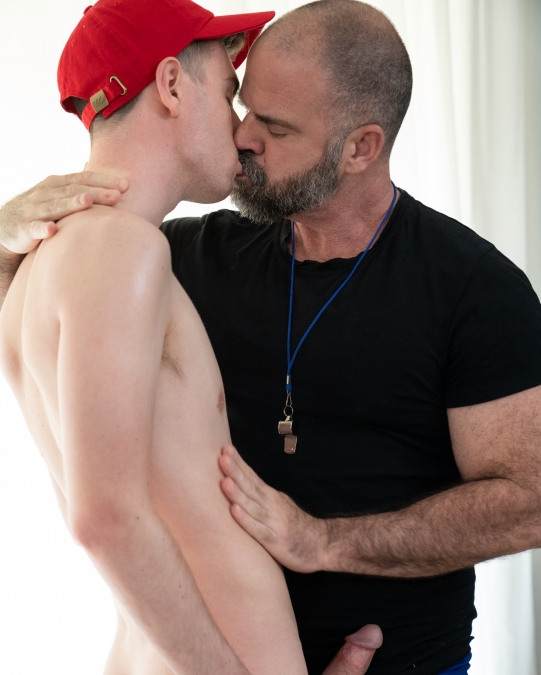 Coach Angus is all about guidance and training. He loves being a father figure to many of the young guys he works with each year, hoping they know that they can come to him for any reason. With his big, furry chest, beard with hints of salt and pepper, and massive legs, he's often seen as a big muscly teddy bear. And while he's happy to smack their asses as they come off the field, most of them can't help but wish for more. Indeed neither can he.

He fantasizes about his young, smooth players building up a sweat as they play their hardest! He sees these young guys as being in their prime, ready to take on the world and try new things. He can't help but sniff their sweaty jocks, thinking of their cocks getting hard after a good game, needing something to fuck and release into. He fantasizes about his players loading up his strong, hairy, muscle ass, and showing his boys a good time. After all, he's their coach, and he's going to be there for whatever they need!

Lucas is a boyish young man with a smooth body and sweet, innocent-looking face. But while he might seem lean and petite, he has a throbbing, veiny cock that's impossible to ignore! Tightly held in his jock strap, every other man can see what he's sporting and is curious to try it out. For his part, Lucas has his sights set on the handsome older men he sees around the sports club. He often fantasizes about his coach and trainer, hoping to get the chance to see what they're packing in return. And from the looks he gets from them, it seems it's only a matter of time...