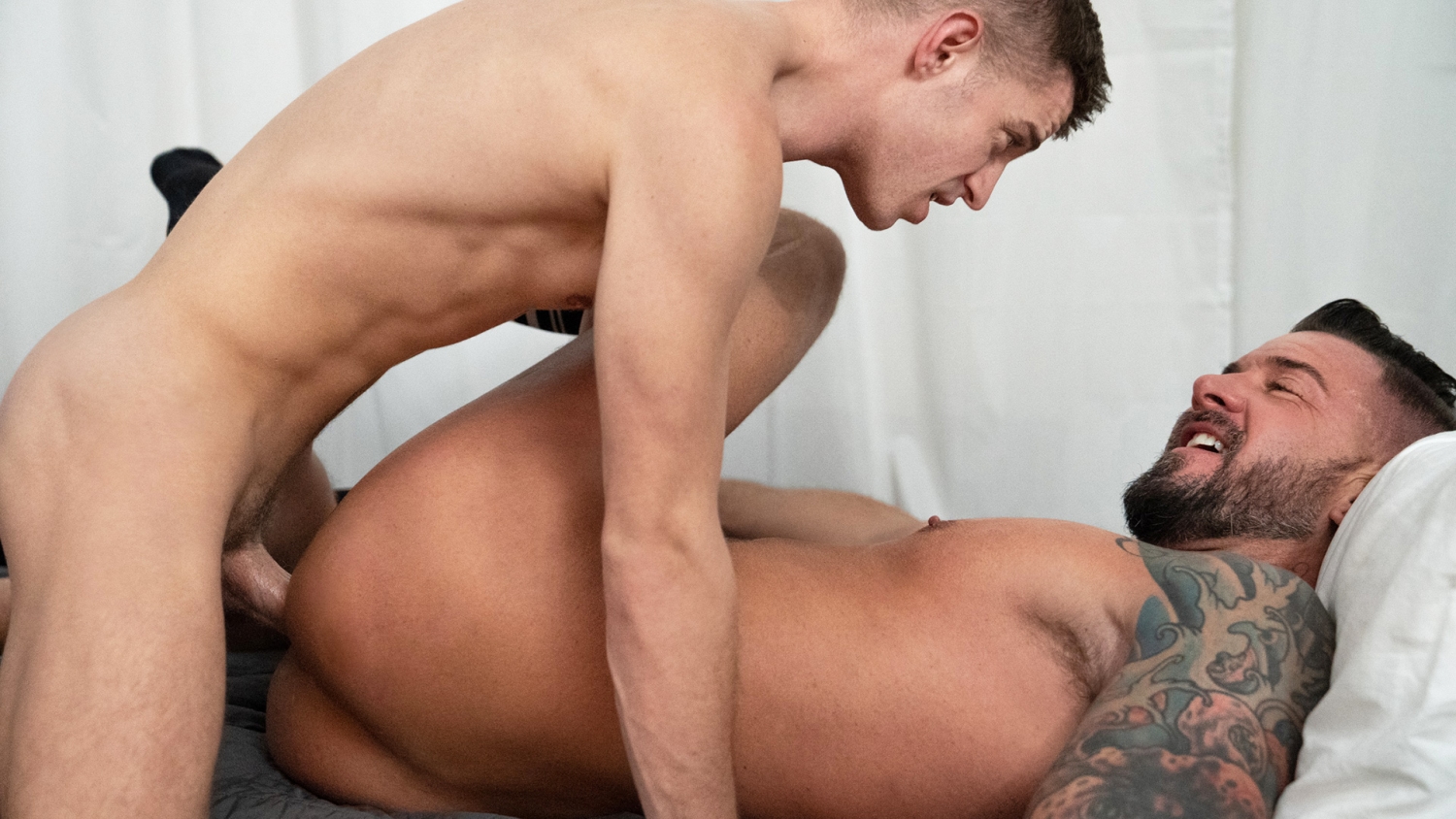 Top Tryout
Tom couldn't contain his excitement. The idea of spending some one-on-one time with Trainer Dietrich was almost too much for him to bear. After all, he'd fantasized about him for so long! The tall, tattooed man was the perfect blend of a rough exterior with a teddy bear heart. Not to mention he was almost 6'5"! Tom jerked off on countless nights imagining seeing the daddy bent over with his ass pouring out of his tight jockstrap. He'd seen glimpses in the past, but never had the chance to get an up close look. But he knew his momen...t had come and was eager to make it happen... Sitting in Dolf's room, he waited patiently for the older man to finish his work, feeling his cock swelling in his shorts with each beat of his heart. He was antsy to take off the big man's clothes and feel his body. Dolf could see the boy's enthusiasm. It was endearing and sweet. He could tell the young man wanted this more than anything else, something that made the trainer all the more interested. He loved seeing a younger guy take charge and own his sexuality! And Tom wasn't subtle about what he wanted. Getting turned on and distracted, Dolf realized he wasn't going to get any work done until he gave in. Not that it was a hard compromise... He was just as eager to see the boy's hard cock in the flesh! The two kissed as their hands caressed each other's firm, athletic bodies. Even through his polo, Tom could tell just how muscular his handsome trainer was. And when he took off his shirt, he nearly gasped at the sight of his smooth, toned body. His tattoos spread over his shoulders, drawing his eye to the daddy's massive biceps. He wanted to kiss him all over, feeling his lips touch every part of his body. Dolf assisted in his efforts by continuing to disrobe. Once the tall trainer removed his underwear, Tom rushed his tongue in between his smooth, daddy cheeks. He ran it around in circles, teasing his tight hole, getting him warmed and wet. He could have fucked him right then and there, but held off to worship his mentor's beautiful, round ass... Dolf arched his back, presenting his hole to his young jock. He moaned with each lap of the hungry boy's tongue, feeling his hands stroke his cock as it hung between legs. He felt his body tingle with excitement, ready for the young buck to shove his bare cock inside him. He could see potential in his horny top, but he needed to see just what he was capable of.
With Dolf bent over and his hole relaxed, Tom pulled out his cock. Dolf followed his lead and straddled the boy, guiding Tom's cock between his beautiful, tanned cheeks. Dolf felt his sphincter kiss Tom's hard shaft, teasing it gently as it found its place. And with that, Dolf lowered himself down, taking Tom's cock inch by thick, throbbing inch! [Read more]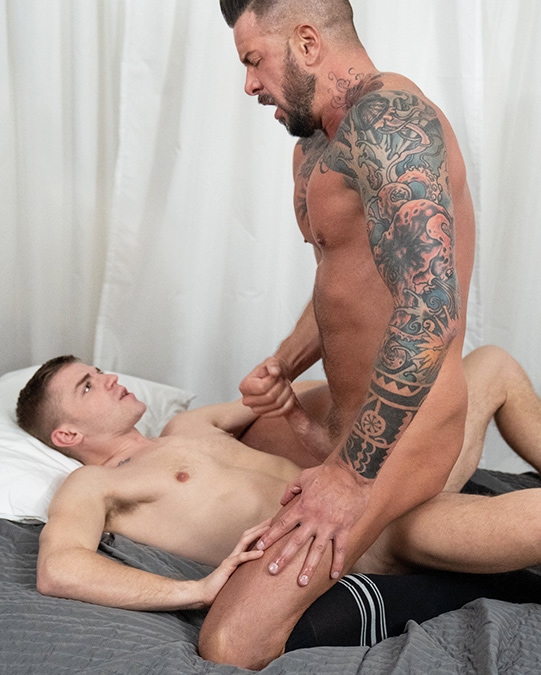 Trainer Dietrich is tall, tan, tatted, and toned. He's got a beautiful body that drives his clients wild! He insists he's just trying to stay in shape, but deep down he loves the attention he gets. Whenever he's helping someone in the gym, he's always aware when they can see his overflowing jock up the wide legs of his shorts; giving anyone who peeks a glimpse of his smooth, round ass and big bulge.

He loves fucking and breeding other muscular daddies, throwing around his size and strength in a playful show of dominance... But as much as he loves being on top, he also loves when a young, lean bottom finds their own strength inside his tight hole. He believes deeply in bringing out the best of those he's with and seeing them reach new heights. Nothing is hotter than seeing a young, smaller guy feel like a titan as he cums inside his ass!

Tom is a twink, no doubt, and the handsome young man is a cocksure stud who's never had a hard time getting what he wants. He works hard, plays smart, and knows how to use what he has. As a solid athlete, he knows the importance of keeping himself in shape and strong, but he knows nothing is more compelling than being focused and confident!

Even though he's not one of the biggest guys on the field, he knows how to take control and make even the older, stronger, broader guys submit to his seductions. He loves nothing more than fucking a handsome, older guy and he has no trouble finding a hot, hungry hole to breed!