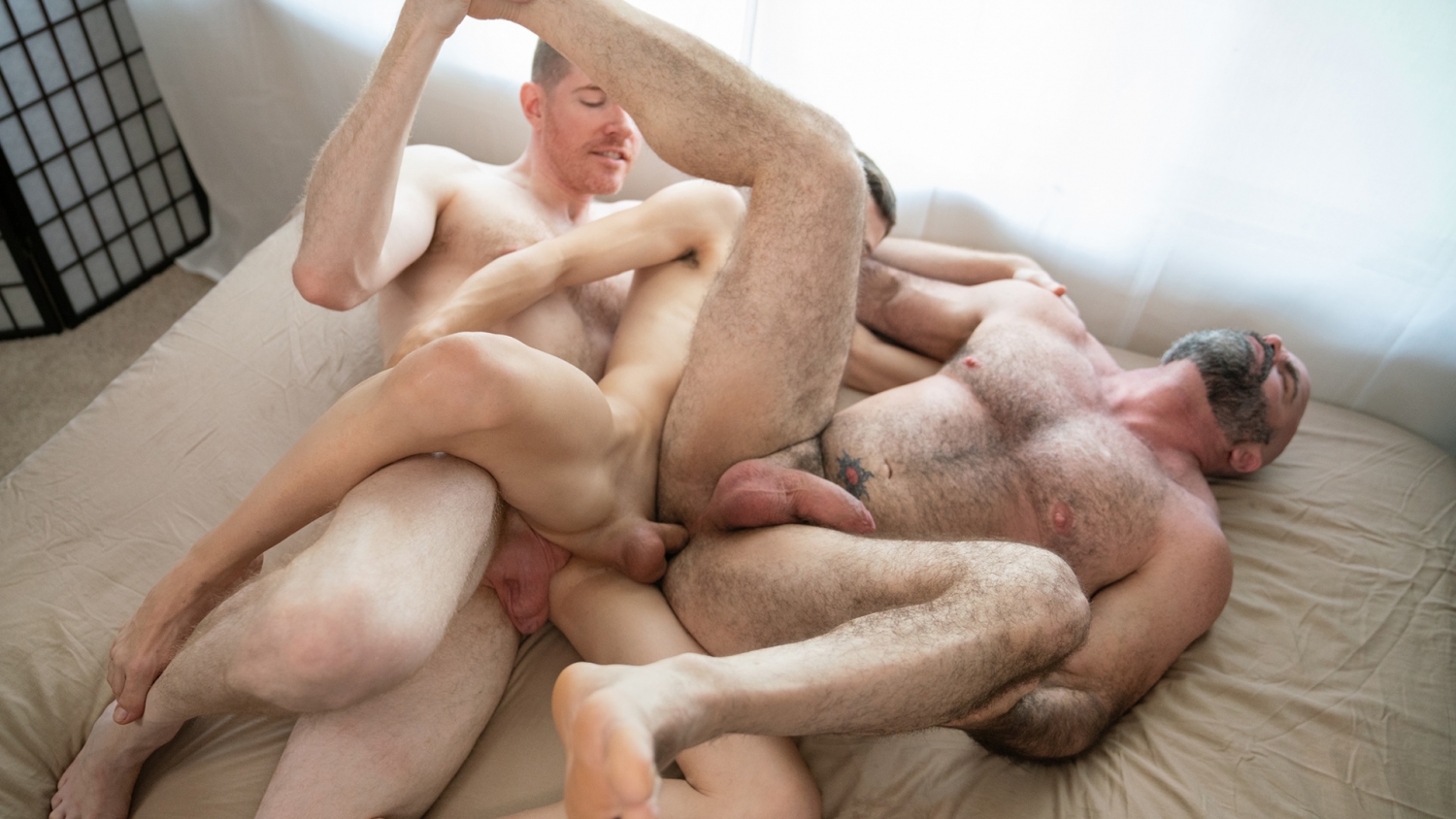 Team Play
Austin found himself with time to kill after his afternoon shower. With his cock out and the rest of the day ahead of him, he thought he'd get lost in a little online erotica. With his headphones on, his phone in one hand and his dick in another, he searched out his fantasies as he got progressively harder and hotter.
Coach Angus walked ...
Read more
Coach Angus walked past the open door of the boy's room, poking his head in as he emerged fresh from the showers. Wearing nothing but a towel to cover his manhood, he saw the boy's cock being stroked, bringing his own horny desires spring to the surface. He could tell the boy was looking to cum, so he figured he might as well use his tight daddy ass!
Austin barely needed the coach's invitation to top the older man. He'd found himself looking for it more and more. It even became his new favorite search online!
Seeing Angus remove his towel and present his furry body to be used made him rock hard and ready for another turn on top...
Lubing up his dick, Austin followed the thick legs of his burly, bear daddy down to where they met. The deep crack of his muscular ass was irresistible as he remembered how it felt wrapped tightly around his twink tool. He slid it in, feeling the intense heat and strength of his matured sphincter, practically milking him from its grip.
Austin fucked Angus deeper, working his way further inside the big man's body. The young man felt like he could practically fall into him, losing himself inside his daddy bottom's hole. It wasn't until Director Wolf joined them that Austin came back to reality.
Director Wolf loved seeing a little guy take control of a big man like Angus! He could see the two of them carrying on and couldn't resist getting himself involved. Doing what he does best, he instructed Austin how to mount up behind the big guy, watching as the obedient boy filled his colleague's ass, thrusting again and again.
Wolf took some lube onto his fingers and began playing with the boy's hole as he worked on Angus' ass. It was like nothing else seeing Austin work his digits as he filled the older man!
Wolf quickly took out his own cock, desperately needing to slide his meat into Austin's tight twink hole. With Austin acting as the small bridge between them, the two older men enjoyed the lean boy's horny body. As one fucked from behind, the other took the full brunt of both of their passions, feeling himself get pushed closer and closer to orgasm!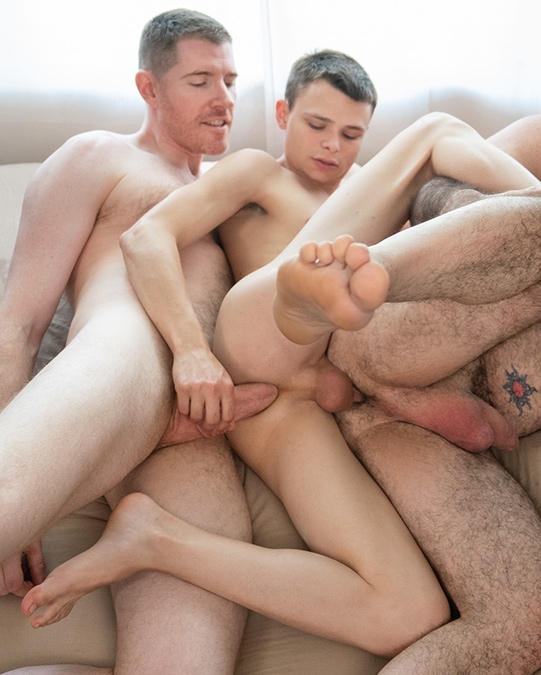 Austin is a sexy, little guy with almost no hair on his body, except for what grows on his head! And given how much he likes bottoming, he didn't mind the presumption that he would bottom whenever he had sex. He was, in fact, very happy taking big cocks up the ass! But despite stereotypes about his size and tight-bodied twink physique, one day while watching porn, he found himself unexpectedly getting turned on by the thought of topping.

Watching sexy daddies fuck smooth little twinks, Austin got horny for the big, muscle butts of the daddies. Even as they were fucking the whimpering little guys, he didn't just admire their strength and size, he imagined what it would be like to feel his cock slide into those beefy asses. And suddenly he wanted nothing more than to give it a try! Austin has had a lot of fun pumping young loads into sexy men who love taking a good pounding from this little twink top!

Coach Angus is all about guidance and training. He loves being a father figure to many of the young guys he works with each year, hoping they know that they can come to him for any reason. With his big, furry chest, beard with hints of salt and pepper, and massive legs, he's often seen as a big muscly teddy bear. And while he's happy to smack their asses as they come off the field, most of them can't help but wish for more. Indeed neither can he.

He fantasizes about his young, smooth players building up a sweat as they play their hardest! He sees these young guys as being in their prime, ready to take on the world and try new things. He can't help but sniff their sweaty jocks, thinking of their cocks getting hard after a good game, needing something to fuck and release into. He fantasizes about his players loading up his strong, hairy, muscle ass, and showing his boys a good time. After all, he's their coach, and he's going to be there for whatever they need!

Doctor Wolf sees all kinds of men come through his office. But none get his attention more than small, smooth, handsome young twinks! He loves seeing their big cocks pour out of their underwear as they come in for exams, loving how big they look on their lean, hairless frames.

He's a very handsome man himself, sporting a massive cock that makes most bottoms desperate for a try, but he loves seeing these little guys using their natural talents as tops, sliding their big cocks into hungry daddy holes. He's always happy to lend a helping hand to boys in need, even if that means showing them how to fuck and breed in person!