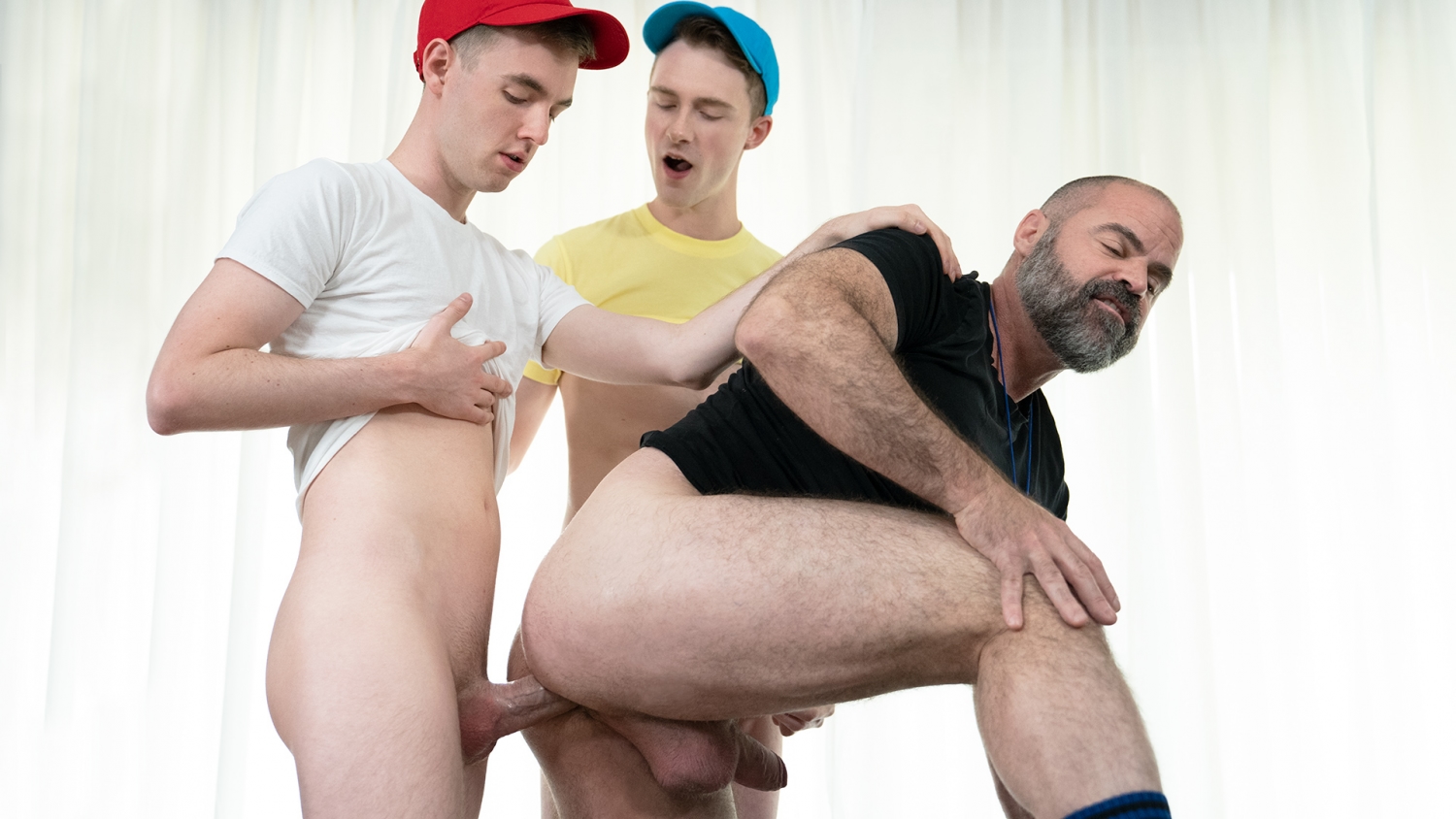 Top Training
Lucas has already topped Coach Angus, but it never hurts to get some extra training. Cole has come with him, and he's armed with several toys to help Lucas learn a bit more about dominating their mentor. In fact, the lesson starts the moment boys enter the room. Cole instructs their coach to get on all fours on the bed, and the man does so without question. And when Coach Angus sees the buttplugs and dildo that Cole hands to Lucas, he can't help but smile. He's ready for these boys to use him.
It's obvious Angus ...
Read more
It's obvious Angus is horny, because he's bulging in his undies as Cole guides Lucas' hand to his coach's ass. After the boys get the older man to stand, they drop his briefs and let his cock spring free. Without ceremony he is bent right back over on the bed and Cole gets his tongue deep in the man's musky crack. Cole then pulls Lucas' face down into the coach's ass, showing the boy he has to take it if he wants it. Every inch of Cole's substantial hardon is visible against the taut fabric of his shorts, which are already stained with a large dark patch of precum. Cole pushes Lucas to his knees and kneels next to him to slide the dildo into Coach's ass. He loves stuffing the man's hole with toys, and he loves showing Lucas how to do it.
The boys are horny for each other, too, so they start making out, while Angus drops to his knees and pulls down their shorts. He gets a drop of Cole's precum on his finger and feeds it to Cole, and that intimate moment gets him wild. He sucks both boys' dicks with abandon as they keep kissing.
Then Cole decides it's time for the main event. He bends Coach over the bed and presses into his mentor's hole while Lucas occupies the man's mouth with his own stiff meat. Cole is a lot harder and wider than the dildo he brought, and the man is grunting and groaning as the boy fucks him. Coach Angus gags as he tries to deepthroat Lucas, but Cole want's Lucas to fuck the man and calls his friend back to the coach's hole. Lucas slides his arrow-straight cock right in. Cole grins greedily as he stands on the bed, holding coach's buzzed head down on his own heavy pole. Lucas picks up the pace: he's having a great time topping the man he's looked up to for so long. With a spank on Coach's ass, he tells him to get on his back. Lucas slides back into Angus' hole while Cole fucks the man's mouth.
Lucas wants to paint his coach's face with his buddy. The boys lean over their mentor as he squeezes and tugs on their balls with either hand. They cum one after the other, dropping huge, hot loads of cum all over Coach's beard.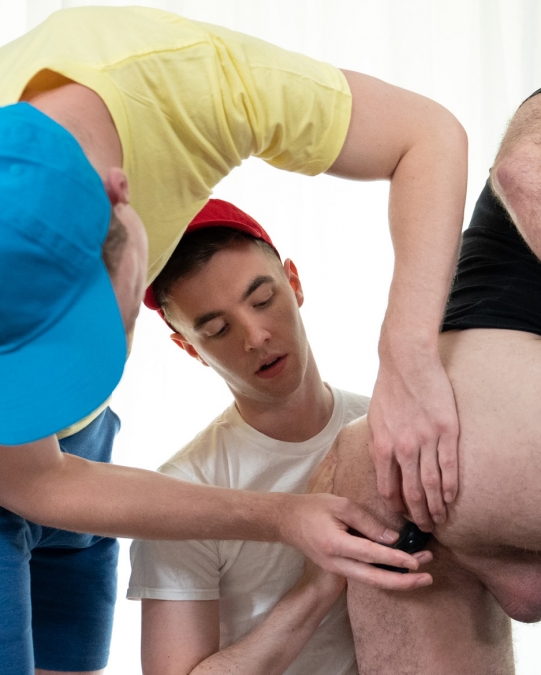 Coach Angus is all about guidance and training. He loves being a father figure to many of the young guys he works with each year, hoping they know that they can come to him for any reason. With his big, furry chest, beard with hints of salt and pepper, and massive legs, he's often seen as a big muscly teddy bear. And while he's happy to smack their asses as they come off the field, most of them can't help but wish for more. Indeed neither can he.

He fantasizes about his young, smooth players building up a sweat as they play their hardest! He sees these young guys as being in their prime, ready to take on the world and try new things. He can't help but sniff their sweaty jocks, thinking of their cocks getting hard after a good game, needing something to fuck and release into. He fantasizes about his players loading up his strong, hairy, muscle ass, and showing his boys a good time. After all, he's their coach, and he's going to be there for whatever they need!

Cole is a little bigger than most of his peers. He's tall, muscular, and blessed with a big, meaty cock! Not only is he a solid athlete, but he's also completely gorgeous. Both boys and girls have been trying to sleep with him his whole life, and he has no complaints about it.

The more he spends time with the boys at his camp, the more he feels himself hungry for something more. As a counselor, he's used to being in charge and getting his cock sucked by anyone he wants. But being around young, twinky guys all day, he can't help watching them; imagining their legs thrusting their bulging meat into his ass, filling him up, and dominating his hole. He jerks off thinking about it all the time, ready for a little guy to take control and fuck him good!

Lucas is a boyish young man with a smooth body and sweet, innocent-looking face. But while he might seem lean and petite, he has a throbbing, veiny cock that's impossible to ignore! Tightly held in his jock strap, every other man can see what he's sporting and is curious to try it out. For his part, Lucas has his sights set on the handsome older men he sees around the sports club. He often fantasizes about his coach and trainer, hoping to get the chance to see what they're packing in return. And from the looks he gets from them, it seems it's only a matter of time...