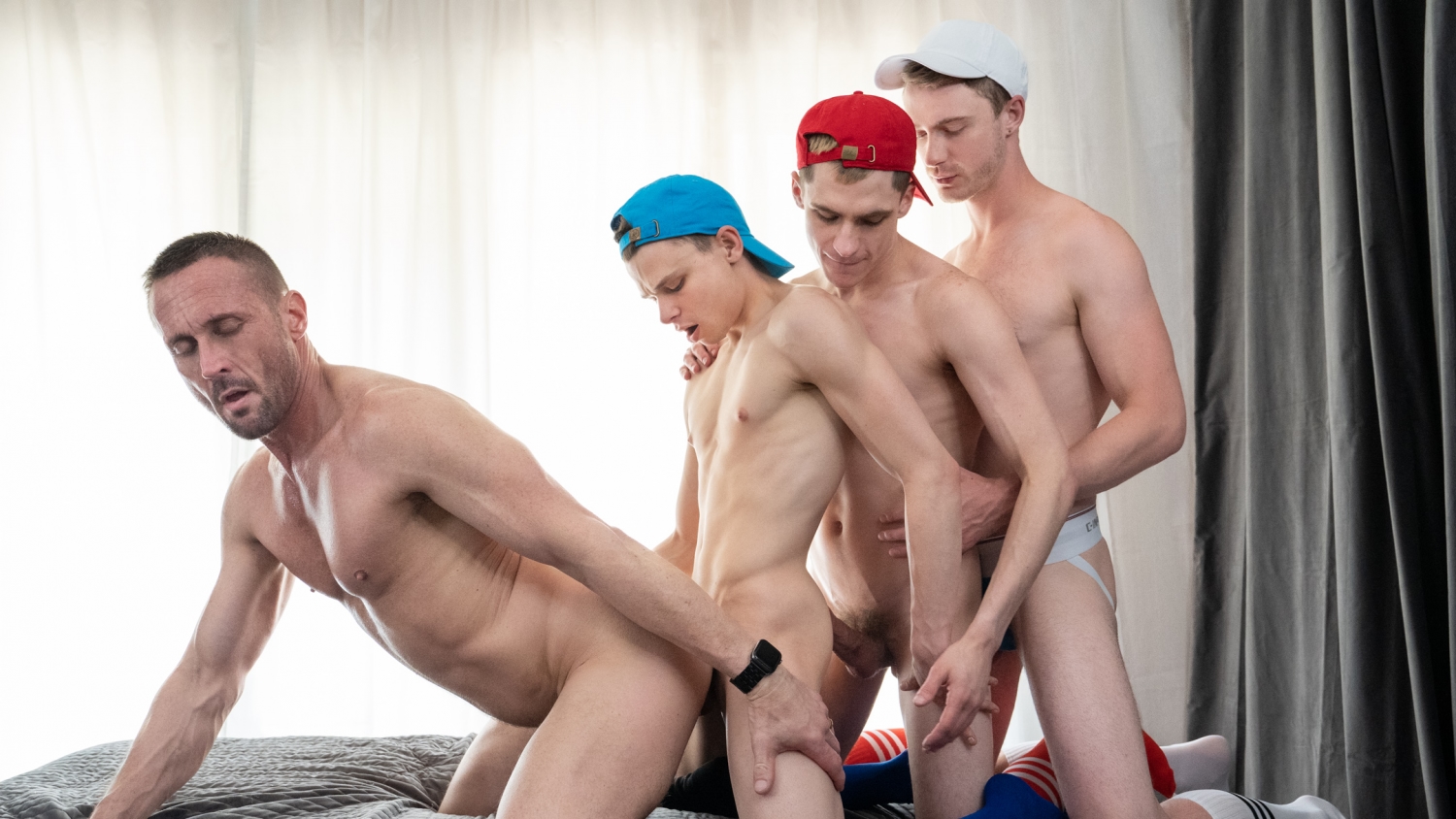 Masc Bottom Tag Team
Coach Landon was still getting his bearings around the facilities when he spotted Cole, Marcus, and Austin exercising outside of the gym. The three young studs were finishing a run, their chests glistening with sweat as they slowed down to drink some water. He couldn't help but notice their cocks bulging in their shorts, held tightly in place by their jockstraps. He knew what a tight ass looked like in those elastic straps, and there before him was a trio of studs in perfect shape!
He had yet ...
Read more
He had yet to meet them or see what they were capable of, so he walked over to introduce himself, trying to hide his own growing arousal. The three boys saw the older man approaching them, compelling them to show off their bodies a little more by stretching and flexing.
It was apparent their displays were working as they could see the semi-hard cock of their new coach move with each step he took...
Coach Landon could see the boys eye-fucking him, gazing down at this monster daddy dick and giving each other knowing glances. The boys wanted him just as badly, creating a tension in the air that was undeniable! The coach invited the boys back to his private room to see just what they were all capable of, promising a special treat for their day's workout. The boys couldn't resist the chance to get the handsome daddy alone, following him back as they felt their nuts churn with hot cum.
Once inside, the three boys laid on the older man's bed, presenting their hot asses up like cakes on a tray! Coach Landon felt his heart race, excited at the chance to taste each one, and not sure where to start...
He pressed his mouth down on Marcus' hole, tasting his sweet ass on his tongue while his buddies watched on. The older man couldn't resist giving him more than just his tongue, sliding off his shorts as he plunged his girthy manhood deep into the young jock's hole.
Cole and Austin watched on as their friend got bred by the bare cock of their coach, stroking each other's cocks and making out as the air became thick with their masculine pheromones. But as Coach Landon thrust his cock into Marcus' hungry hole, they couldn't take their eyes off the older man's smooth muscular ass.
It was round and strong, clearly capable of taking a good fuck! And as Landon shot his load all over Marcus, they were happy to hear that the coach wanted to give them a go on his daddy ass!
With his cock still raging hard, Coach Landon smiled as Cole positioned himself behind him, watching on his back as the beautiful, young man pressed his thick cock between the coach's cheeks. Marcus provided a string of spit on his hole to help ease it in, and with a gentle push, Coach Landon felt the hot jock fill his ass...
The other boys watched on, rock hard and stroking their cocks as Cole pounded the older man with his bare cock. Each eager to feel their cocks cum inside the hot daddy's ass!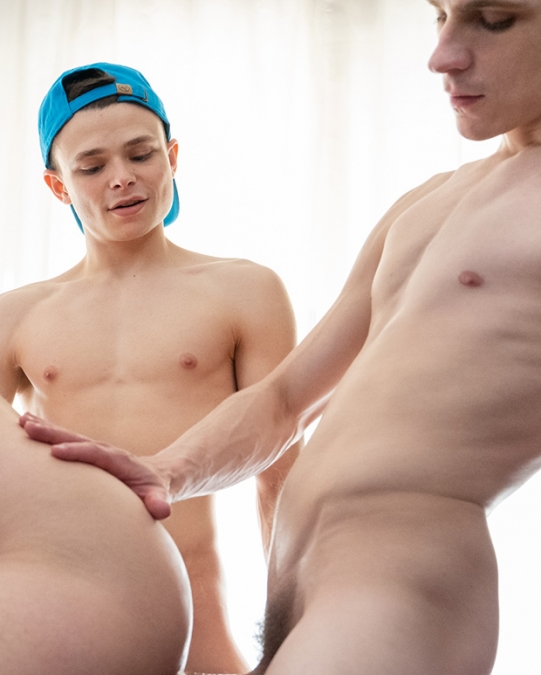 Austin is a sexy, little guy with almost no hair on his body, except for what grows on his head! And given how much he likes bottoming, he didn't mind the presumption that he would bottom whenever he had sex. He was, in fact, very happy taking big cocks up the ass! But despite stereotypes about his size and tight-bodied twink physique, one day while watching porn, he found himself unexpectedly getting turned on by the thought of topping.

Watching sexy daddies fuck smooth little twinks, Austin got horny for the big, muscle butts of the daddies. Even as they were fucking the whimpering little guys, he didn't just admire their strength and size, he imagined what it would be like to feel his cock slide into those beefy asses. And suddenly he wanted nothing more than to give it a try! Austin has had a lot of fun pumping young loads into sexy men who love taking a good pounding from this little twink top!

Coach Landon may be new to his role, but he's had plenty of experience in handling rowdy, energetic young men! He knows how to run them through their paces, working up a sweat as he puts them through their drills. He also believes in rewarding those who play hard by giving them a special treat. He knows all the boys call him a "DILF" behind his back, something he likes to use to tease out their best performances. And not only does he have a handsome face and a smooth, muscular body, he's got a thick, powerful cock they can't help but eye through his thin, nylon shorts! And while he's fucked many hot, young jocks before, he saves his tight, smooth hole only for his elite players. Fortunately, he's got his eyes on several players trying to make varsity... Provided they can rise to the occasion!
Cole is a little bigger than most of his peers. He's tall, muscular, and blessed with a big, meaty cock! Not only is he a solid athlete, but he's also completely gorgeous. Both boys and girls have been trying to sleep with him his whole life, and he has no complaints about it.

The more he spends time with the boys at his camp, the more he feels himself hungry for something more. As a counselor, he's used to being in charge and getting his cock sucked by anyone he wants. But being around young, twinky guys all day, he can't help watching them; imagining their legs thrusting their bulging meat into his ass, filling him up, and dominating his hole. He jerks off thinking about it all the time, ready for a little guy to take control and fuck him good!

Marcus is a bit shy. He may be soft-spoken, but that doesn't mean he doesn't have desires just like everyone else! And nothing turns him on like a hot, handsome daddy... All his life he's been a bottom, but as he's gotten older and more sure of himself, he feels the need to breed take over him more and more!

And while he may want to try experiencing sex as top, his interest in big, beefy daddies hasn't changed. Luckily, the more time he spends with his coach and teammates, the more he sees plenty of opportunities to break out of his shell and get his dick deep in hot, daddy hole!