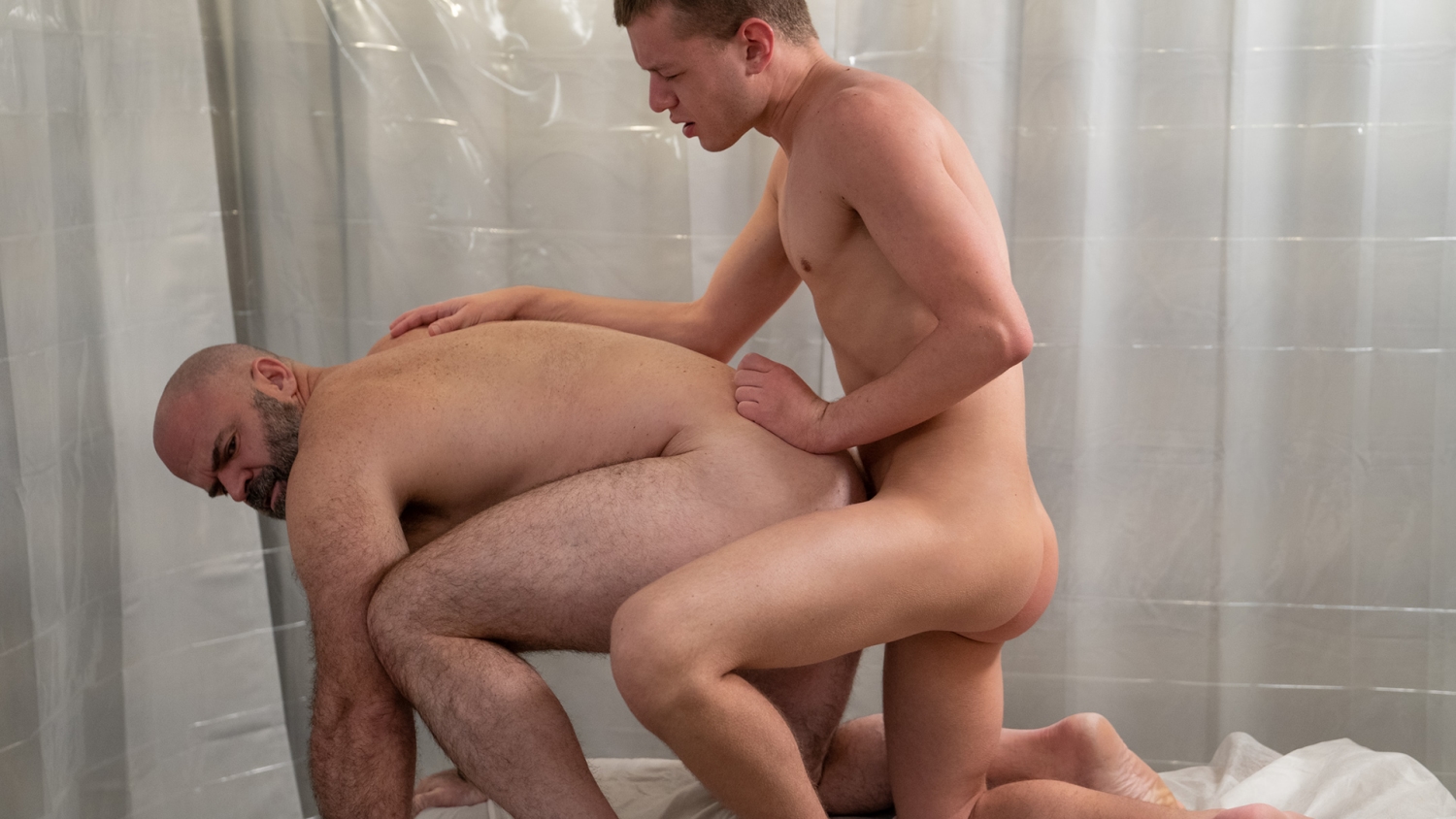 Healthy Young Male - Halloween Special
As the pandemic continues, studies proceed to understand the nature of the contagion. Ian is anxious to return to normal life, but is willing to follow the instructions of the government agents.
He's shown he's ...
Read more
He's shown he's capable of breeding once, but they're looking for more information to conclude their research. Bringing in Agent Angus, Ian is instructed to insert his erect penis into the mature man's rectum, triggering his prostate and, ultimately, reach orgasm with insemination.
When Angus gets up on the exam table, presenting his meaty, round, muscular ass, Ian's cock instantly swells with excitement. In any other moment, such a sight would make him immediately worked up and horny to fuck. It's a little strange to have those feelings in the presence of an observing physician and cameras rolling. Still, it's what he must do, so he goes along with it.
Using his fingers, he begins to open up Angus' hole, feeling his tough, muscular sphincter tighten around his digits before relaxing and taking him in. His insides are smooth and warm, making the young man even harder. He takes out his cock, stroking it as he imagines sliding deep between Angus' cheeks. The older man lets out soft moans as Ian feels his prostate, ready to fulfill his duty and take the younger man's seed.
With Angus properly warmed up, Ian lubes up his cock, feeling the cold gel spread over the head. It takes only a moment for him to bring it to Angus' ass, feeling its intense heat as he makes contact. It warms up the lube quickly, making him all the more eager to push in. As he does, he's enveloped in the soft, smooth anus of his partner, making his nuts nearly reach the breaking point of pleasure. He feels himself close to cumming, but tries to hold out as long as he can...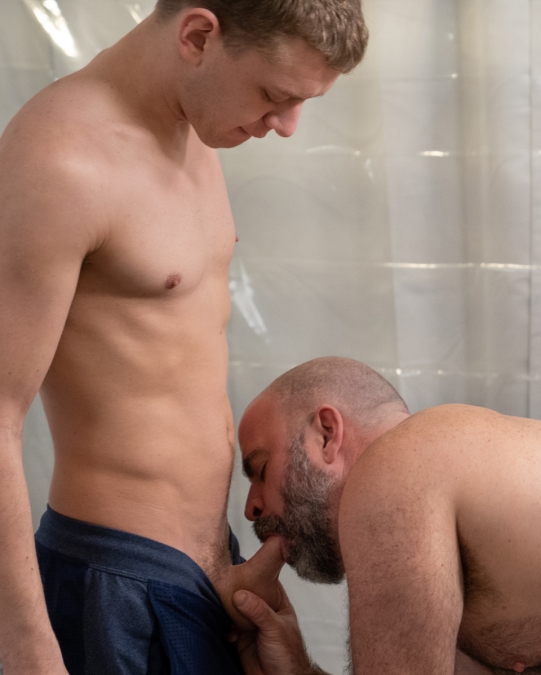 Coach Angus is all about guidance and training. He loves being a father figure to many of the young guys he works with each year, hoping they know that they can come to him for any reason. With his big, furry chest, beard with hints of salt and pepper, and massive legs, he's often seen as a big muscly teddy bear. And while he's happy to smack their asses as they come off the field, most of them can't help but wish for more. Indeed neither can he.

He fantasizes about his young, smooth players building up a sweat as they play their hardest! He sees these young guys as being in their prime, ready to take on the world and try new things. He can't help but sniff their sweaty jocks, thinking of their cocks getting hard after a good game, needing something to fuck and release into. He fantasizes about his players loading up his strong, hairy, muscle ass, and showing his boys a good time. After all, he's their coach, and he's going to be there for whatever they need!

Doctor Wolf sees all kinds of men come through his office. But none get his attention more than small, smooth, handsome young twinks! He loves seeing their big cocks pour out of their underwear as they come in for exams, loving how big they look on their lean, hairless frames.

He's a very handsome man himself, sporting a massive cock that makes most bottoms desperate for a try, but he loves seeing these little guys using their natural talents as tops, sliding their big cocks into hungry daddy holes. He's always happy to lend a helping hand to boys in need, even if that means showing them how to fuck and breed in person!













Ian has never stood out among his peers. Mostly, because he stands at only 5'4" tall! Couple that with a shy, timid personality and he's often overlooked by the larger world. Despite this, he still has needs! He's never one to make the first move, but fantasizes day and night about a big, towering man sweeping him off his feet and fucking him hard. And with his size, he's easy to scoop up! Every time he meets a tall, handsome man, his loins get worked up, wondering if this is the moment when he'll be seen and chosen. As luck would have it, his short stature and sweet, innocent looks are about to get him a lot of attention... And a lot of deep, bareback breeding!