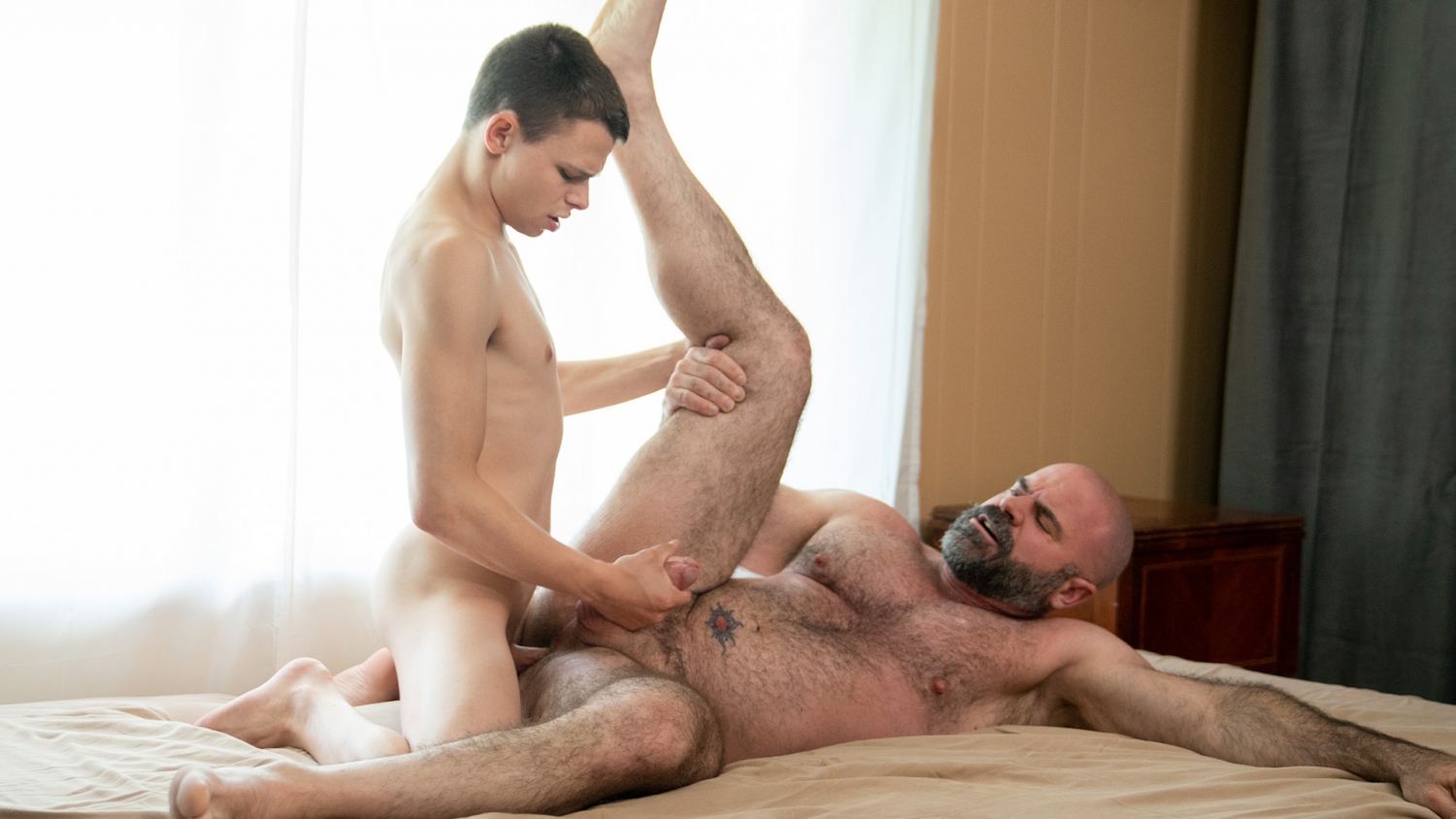 Top Instruction
Coach Angus has always enjoyed Austin's can-do attitude. The young man is eager to try new things and test his limits, but has always been in the bottom role when it comes to sex. Coach Angus didn't think much of it until Austin mentioned he'd want to give topping a try.
The older man ...
Read more
The older man was impressed, happy to see his horny boy ready to step out of his comfort zone and experience sex as a top! Coach Angus got a special thrill thinking of the smaller, leaner, smoother boy fucking his big, muscular, furry daddy ass. He knew he'd need some guidance. But after all, what are coaches for?
Stripping Austin down to his underwear, he began the boy's training, getting him good and hard by taking Austin's smooth cock to the back of his throat. Austin moans as he feels the soft beard of his older coach caress his body each time it bobs up and down. Angus' tongue lapping at his hard shaft makes him all the more excited, curious if his hole would feel the same...
Coach Angus lies on his back, lifting his hefty legs in the air to give Austin a view of his big, meaty ass. Austin's instructed to get it wet, prompting the boy to get down and lick his hairy hole with his tongue. He does as his coach says, holding his big cheeks apart to allow the boy to savor his tight sphincter!
Austin teases Angus' hole with his finger, feeling his cock leak with anticipation for his first fuck as a top. Angus smiles, seeing the enthusiasm in the boy's eyes. He invites him to press his cock between his glutes, instructing him to slowly and gently ease his way inside.
Austin knows what it's like to take a big cock, taking his time to make sure Angus's hole is relaxed. The seasoned daddy's ass swallows up Austin's hard cock without hesitation, feeling it fill his hungry cavity as Austin's grows wider from the sensation...

Feeling his cock wrapped in the hot muscles of his hairy daddy bear, Austin feels a switch flip in his brain, telling him to thrust his hips and slide his cock back and forth. Coach Angus can see the boy is a natural, barely needing to speak up as he gets pounded deep by his young protégé. Angus lies back and watches with pride as Austin begins to breed his hole, enjoying the pleasures of a horny top ready to burst!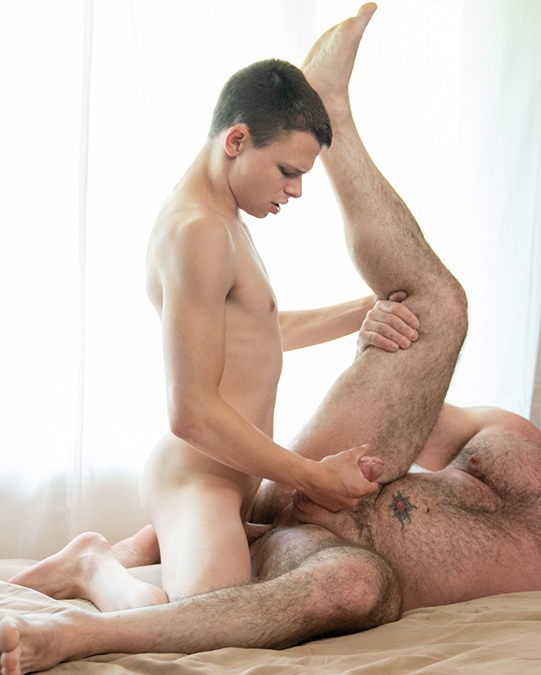 Austin is a sexy, little guy with almost no hair on his body, except for what grows on his head! And given how much he likes bottoming, he didn't mind the presumption that he would bottom whenever he had sex. He was, in fact, very happy taking big cocks up the ass! But despite stereotypes about his size and tight-bodied twink physique, one day while watching porn, he found himself unexpectedly getting turned on by the thought of topping.

Watching sexy daddies fuck smooth little twinks, Austin got horny for the big, muscle butts of the daddies. Even as they were fucking the whimpering little guys, he didn't just admire their strength and size, he imagined what it would be like to feel his cock slide into those beefy asses. And suddenly he wanted nothing more than to give it a try! Austin has had a lot of fun pumping young loads into sexy men who love taking a good pounding from this little twink top!

Coach Angus is all about guidance and training. He loves being a father figure to many of the young guys he works with each year, hoping they know that they can come to him for any reason. With his big, furry chest, beard with hints of salt and pepper, and massive legs, he's often seen as a big muscly teddy bear. And while he's happy to smack their asses as they come off the field, most of them can't help but wish for more. Indeed neither can he.

He fantasizes about his young, smooth players building up a sweat as they play their hardest! He sees these young guys as being in their prime, ready to take on the world and try new things. He can't help but sniff their sweaty jocks, thinking of their cocks getting hard after a good game, needing something to fuck and release into. He fantasizes about his players loading up his strong, hairy, muscle ass, and showing his boys a good time. After all, he's their coach, and he's going to be there for whatever they need!