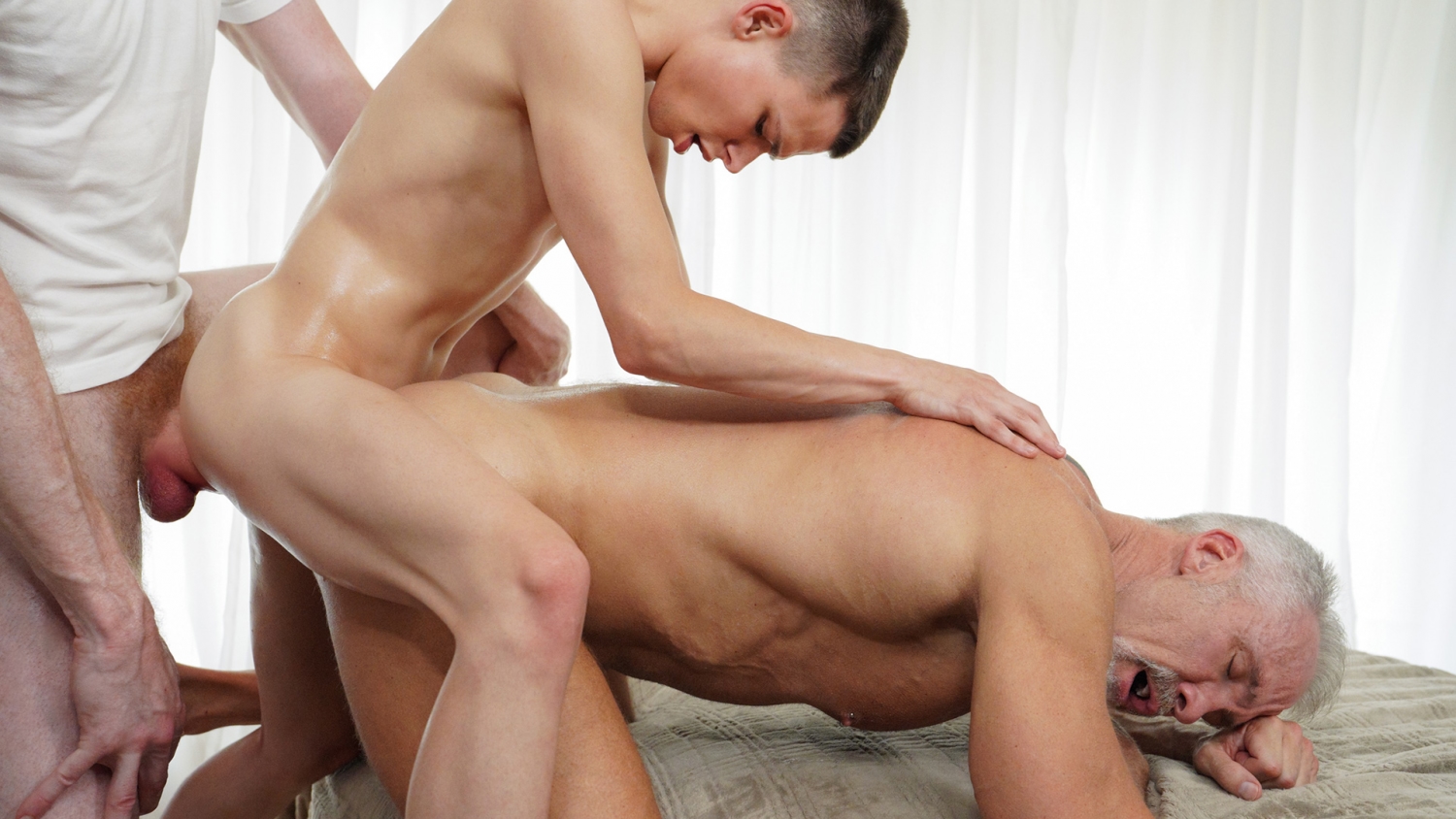 Top Tryout
Doctor Wolf has known Austin for quite a while. During camp physicals Austin has shared much of his sexual history, even his hopes for his sexual future! Doctor Wolf has taken a special interest in seeing Austin achieve his goals, and offers him some special instruction...
Austin didn't have ...
Read more
Austin didn't have any idea what Doctor Wolf had in store for him, but when he arrived, he found the tall doctor was eager to hear more about Austin's desire for topping. Austin was still getting used to the role, having spent his entire sexual life taking cocks from bigger, older guys. But he can't help needing to scratch that itch!
Doctor Wolf surprises Austin with camp Director Steele, for the young boy to train with. Austin can't believe his good fortune, eager to fool around with the hot, silver fox of a muscle daddy!
As Director Steele presents his perfect body to the young boy, Doctor Wolf gives him a hand in taking off his shorts to show Austin his chiseled, firm ass. Austin's mouth waters as he feels it with his hands while Doctor Wolf instructs him. The older doctor tells him to go in for a taste, giving Austin the chance to fuck the older man's hole with his tongue. Austin practically dives in with excitement, feeling the warm, smooth surface of the silver fox with each lap of his tongue.
Steele then takes the boy's cock into his mouth, holding it by his full nuts; getting it hard and wet for his sphincter to swallow up. Austin's youthful energy is thrilling for the doctor to watch, getting hard himself as Austin prepares to take a dip in Steele's warm backside...
With his shaft hard and ready, Steele positions himself on all fours, readying himself for Austin's penetration. Doctor Wolf encourages the boy, giving him approval to slide his cock inside. Austin lets out an intense moan as he feels his cock become engulfed by the tight, warm entrance of Steele's ass. He slides in further, giving the silver haired beefcake his bareback boy cock down to the hilt!
Steele lets out deep moans from his barrel chest, turned on by the young man's young vigor and newly developed endowment. Austin follows his doctor's guidance, sliding himself deeper into the director's anal cavity, all while feeling the ginger doctor's monster daddy cock begin to tease his own tight hole...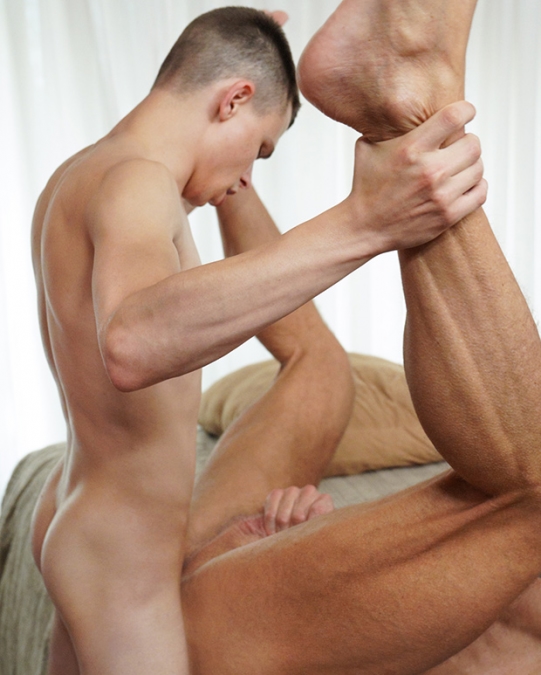 Austin is a sexy, little guy with almost no hair on his body, except for what grows on his head! And given how much he likes bottoming, he didn't mind the presumption that he would bottom whenever he had sex. He was, in fact, very happy taking big cocks up the ass! But despite stereotypes about his size and tight-bodied twink physique, one day while watching porn, he found himself unexpectedly getting turned on by the thought of topping.

Watching sexy daddies fuck smooth little twinks, Austin got horny for the big, muscle butts of the daddies. Even as they were fucking the whimpering little guys, he didn't just admire their strength and size, he imagined what it would be like to feel his cock slide into those beefy asses. And suddenly he wanted nothing more than to give it a try! Austin has had a lot of fun pumping young loads into sexy men who love taking a good pounding from this little twink top!

Director Steele is an important man with a lot on his mind. He runs a busy athletic camp that constantly needs his attention. Not only do the young men themselves need assistance, but the hot, young crew he's hired also need his guidance and attention! The only thing he rarely has time for is getting his own needs met.

As a handsome, tall, muscular silver daddy, he's used to having young guys practically beg to have their asses fucked hard by his big daddy dick. But sometimes, he just needs a smooth, lean top to help him relax by pounding him bareback hard and breeding him deep!





Doctor Wolf sees all kinds of men come through his office. But none get his attention more than small, smooth, handsome young twinks! He loves seeing their big cocks pour out of their underwear as they come in for exams, loving how big they look on their lean, hairless frames.

He's a very handsome man himself, sporting a massive cock that makes most bottoms desperate for a try, but he loves seeing these little guys using their natural talents as tops, sliding their big cocks into hungry daddy holes. He's always happy to lend a helping hand to boys in need, even if that means showing them how to fuck and breed in person!