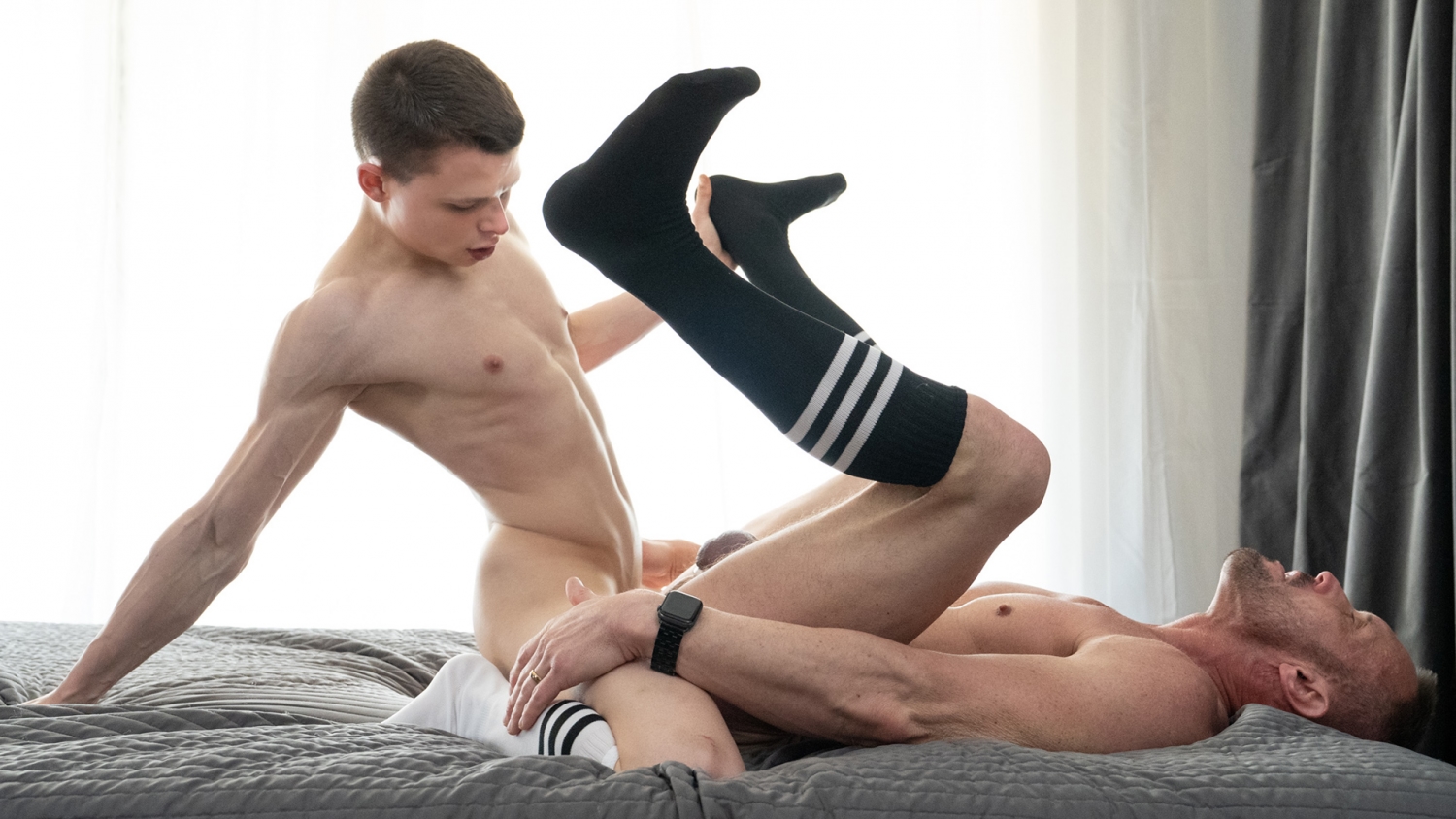 Freestyle Top
Coach Myles Landon has seen a lot of players over the years, but none of them have gotten him as excited as Austin Young. The young man is a genuinely skilled athlete, and his hairless body and taut muscles are mesmerizing. During practice, Coach Landon can barely stop staring at him, and when he walks into Austin's bedroom, he finds the younger man shirtless on his bed.
That's all the ...
Read more
That's all the invitation Coach Landon needs to worship this perfect twink body. Making guttural noises deep in his throat as he rubs his hands over Austin's milky white skin, he can't get close enough to the younger man.
Austin simply lies back and lets himself be worshipped. He knows that he's irresistible to horny older men like Coach Landon, and truthfully, he bones up every time he catches the old man staring at him in public, trying to hide his hardon. Now he's more than happy to let Coach Landon get his fill.
Austin whimpers as Coach Landon rims his boy hole, and he moans as the older man teases him with just the tip of his dick. But then Austin has an idea.
"Actually," he says, stopping Coach Landon from penetrating him. "You always fuck me. I want to fuck you today."
"Do you think you can handle it?" Coach Landon asks.
"I think I can," comes the cocky boy's reply. "Turn around and ride me." Coach Landon obeys, whispering, "Oh fuck," as the hung twink's cock fills his muscular ass. Austin is exhilarated as he watches the beefy butt swallow his twink dick, and he loves hearing his coach moan while riding him. For his part, Coach Landon's dick would be thick and leaking even without his cock ring; he's never felt this hard before.
It doesn't take long before Coach is on his back, legs in the air, watching this slim young man overpower his older ass with a bareback cock. "Show me what you got, boy," he tells Austin, and that's all Austin needs to hear. He pounds Coach Landon's ass hard and deep.
"It's a once in a lifetime deal," the muscle daddy says as he repositions himself on his hands and knees, just before Austin plunges back into him, "You're so tight!" Austin marvels, feeling the Coach's ass grip his cock with every thrust.
As Coach lies face down and ass up, the new angle almost makes Austin cum. "Awesome!" he says, feeling waves of intense pleasure roll through him. "Want a passing grade? Blow a fucking load in there," Coach Landon orders. Even though Austin is in charge today, that's one command he is happy to obey, giving Coach the creampie he usually gets after practice!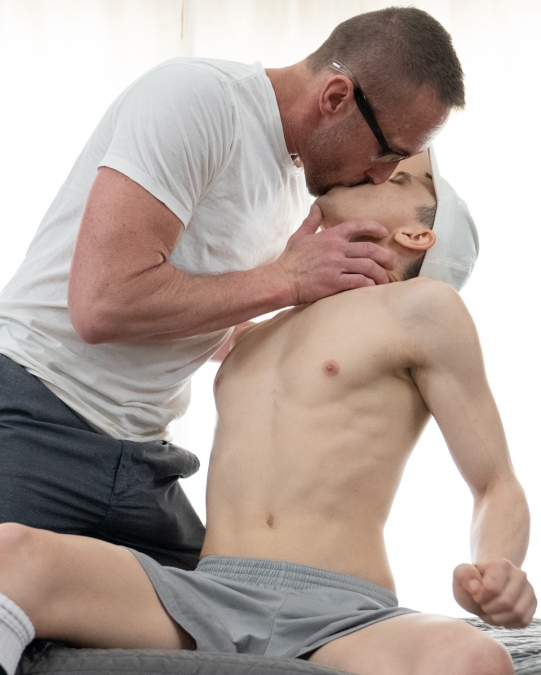 Austin is a sexy, little guy with almost no hair on his body, except for what grows on his head! And given how much he likes bottoming, he didn't mind the presumption that he would bottom whenever he had sex. He was, in fact, very happy taking big cocks up the ass! But despite stereotypes about his size and tight-bodied twink physique, one day while watching porn, he found himself unexpectedly getting turned on by the thought of topping.

Watching sexy daddies fuck smooth little twinks, Austin got horny for the big, muscle butts of the daddies. Even as they were fucking the whimpering little guys, he didn't just admire their strength and size, he imagined what it would be like to feel his cock slide into those beefy asses. And suddenly he wanted nothing more than to give it a try! Austin has had a lot of fun pumping young loads into sexy men who love taking a good pounding from this little twink top!

Coach Landon may be new to his role, but he's had plenty of experience in handling rowdy, energetic young men! He knows how to run them through their paces, working up a sweat as he puts them through their drills. He also believes in rewarding those who play hard by giving them a special treat. He knows all the boys call him a "DILF" behind his back, something he likes to use to tease out their best performances. And not only does he have a handsome face and a smooth, muscular body, he's got a thick, powerful cock they can't help but eye through his thin, nylon shorts! And while he's fucked many hot, young jocks before, he saves his tight, smooth hole only for his elite players. Fortunately, he's got his eyes on several players trying to make varsity... Provided they can rise to the occasion!