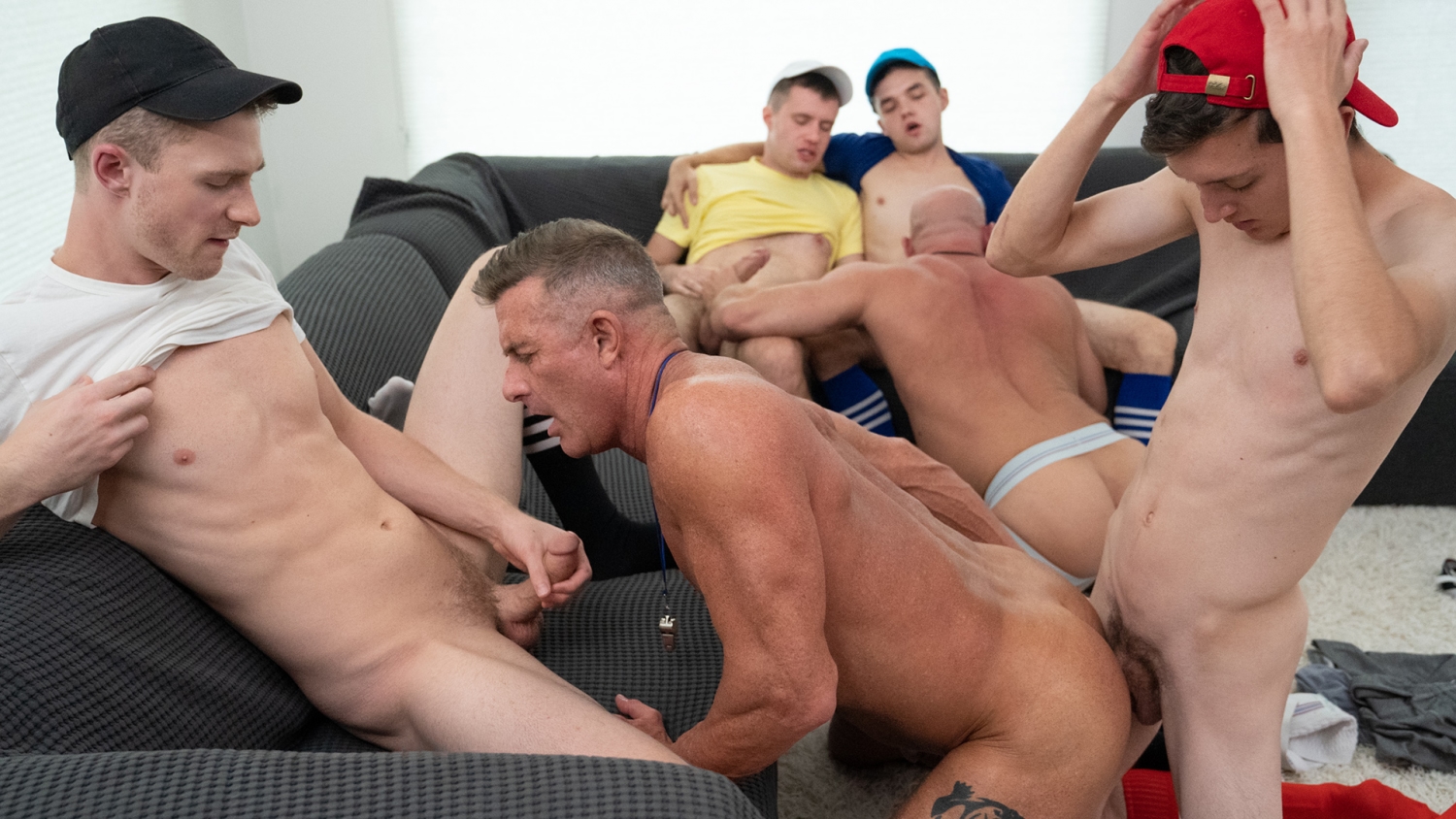 Twink Turkeybowl
Marcus Rivers, Maxx Monroe, Jack Andram, and Cole Blue have to face it—Coach Figata and Coach Knox handily beat all four of them in their impromptu football game. Back inside, they're reluctant to admit defeat, but the older men reassure them that they don't need to sulk. There are plenty of other things these four young jocks are good at, and their coaches are going to enjoy every single one!
All six quickly ...
Read more
All six quickly strip down to their socks and jocks, as the older men go about making the four hung twinks feel better about losing by worshipping their young, throbbing cocks. And these champion fuckers are more than happy to turn the tables, getting the coaches on their hands and knees and filling them at both ends with twink dick.
"Deeper, deeper," one of the older men moans, begging to be used. The boys gladly oblige, grabbing the waistband of the coaches' jockstraps to pull their asses deeper onto their dicks. The older men get spun around and pounded from every direction and angle while the jocks gleefully egg each other on, until the six men erupt in moans of pleasure and floods of cum.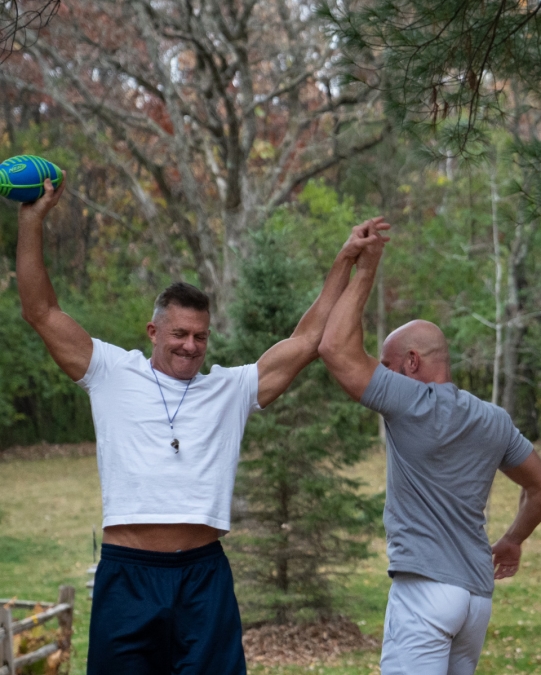 Coach Knox knows what he likes. And with his muscular body, handsome face, and powerful sex drive, he usually gets it. As a dom, he enjoys the power that comes from having control over his submissive. But that just means that when the tables are turned he knows exactly how to push his younger top's buttons to get the reaction he wants. And the reaction he always wants is more, harder, deeper. He knows that younger, slimmer men are too often underestimated. And he also knows how capable they are of throwing a hardcore, unforgettable fuck when given the chance!
Cole is a little bigger than most of his peers. He's tall, muscular, and blessed with a big, meaty cock! Not only is he a solid athlete, but he's also completely gorgeous. Both boys and girls have been trying to sleep with him his whole life, and he has no complaints about it.

The more he spends time with the boys at his camp, the more he feels himself hungry for something more. As a counselor, he's used to being in charge and getting his cock sucked by anyone he wants. But being around young, twinky guys all day, he can't help watching them; imagining their legs thrusting their bulging meat into his ass, filling him up, and dominating his hole. He jerks off thinking about it all the time, ready for a little guy to take control and fuck him good!

Jack started participating in sports because he wanted the kind of attention he saw bigger, burlier guys getting. Little did he know that those bigger, burlier guys secretly wanted a guy like Jack to put them in their places! Once he knew their secret, though, Jack was more than eager to give those jocks what they wanted: him, hard and raw. The look of unbridled lust on his face is enough to make every bottom shoot, and his dick piston-fucking them will finish the job!
This dark-haired jock loves two things: playing hard on the field and fucking hard off it. And there's nothing he likes more than pounding a horny older muscle man, pinning the bigger guy down with his wiry strength and hearing him whimper as Marcus slams into him again and again. Fr Marcus, winning the championship is neck and neck with seeing the submissive lust in an older man's eyes in terms of pure pleasure. Luckily, Marcus has plenty of chances to experience both.