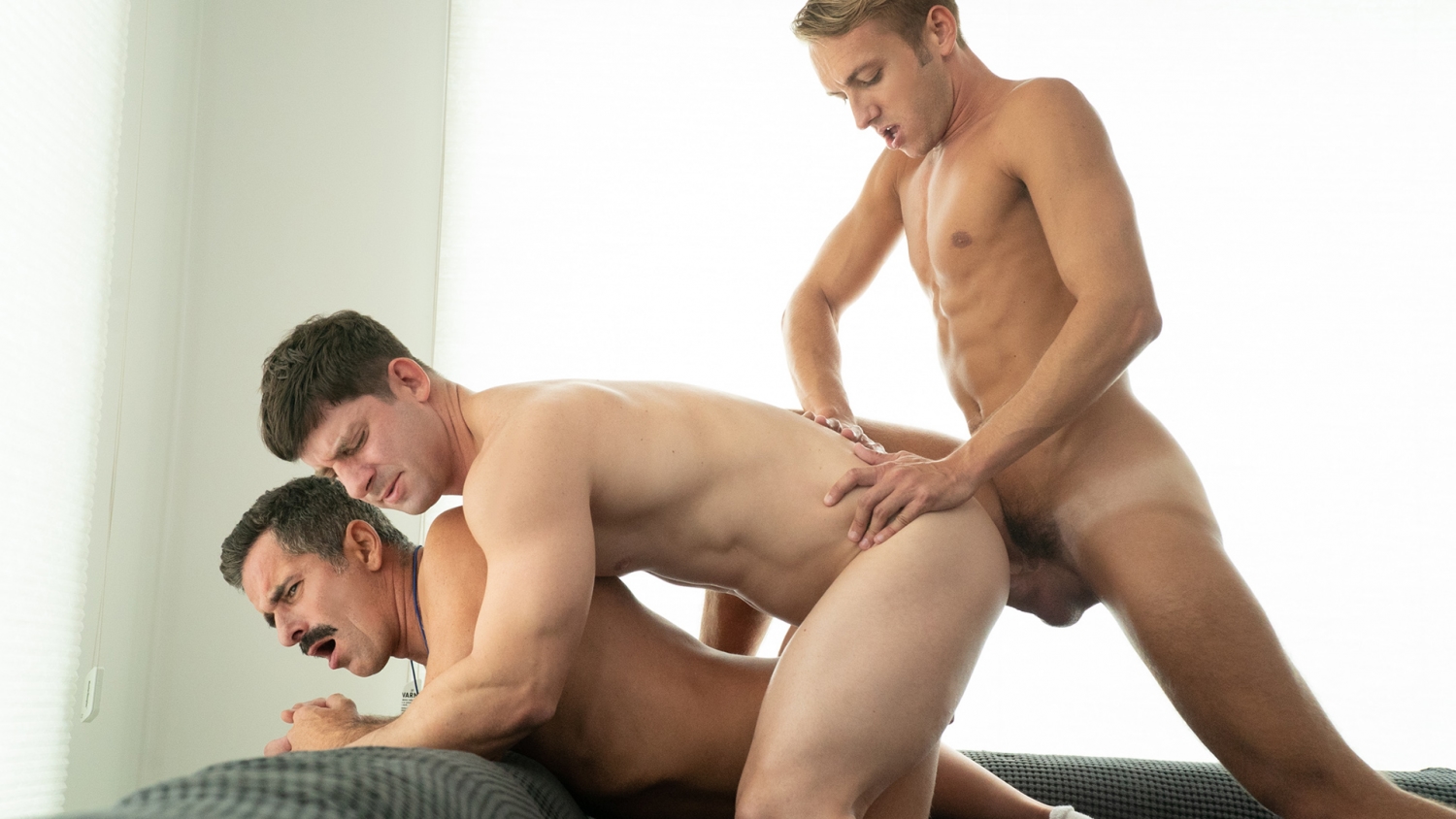 Top Training
Coach Rick and Coach Cox had become close friends as they worked together. Rick was a bit younger and saw the athletes more as peers, but he still had a soft spot for the older man. He could tell he'd been struggling with his desires for the younger guys, not wanting to admit it or show his hand. But the young guys Coach Rick had been fucking had been spilling the beans about the older daddy's extracurricular activitites.
Wanting to give ...
Read more
Wanting to give the older man a chance to embrace his desires and not feel like he had to hide anything, he brought his new friend, Cameron, in to fuck him good. Cameron was a tall, lean stud with a massive cock and a passion for coach-fucking, which made him the perfect choice for Coach Cox.
When Cox came in, he was very aware that Rick and Cameron were all over each other. He didn't know what to say, so he just sat down and asked why they wanted to see him. It wasn't uncommon for a coach or player to want one-on-one time with him, but it was a little irregular for both to request a meeting.
Coach Rick had a horny smile on his face as he ran his hands over Cameron's body, practically showing off the young man like he was a prize. Cox's gaze moved across his body, moving from his beautiful long legs up to his handsome, smooth, boyish face. Rick was direct and to the point, offering the boy's big cock for the mustachioed coach to sample, a proposition that made him both nervous and incredibly aroused.
Cox admired Cameron for sure, and he'd seen him a few times with his shirt and shorts off, just in a pair of socks and jock, a sight that inspired many heated masturbations. But having the chance to touch him and taste him, right then and there, with Coach Rick's encouragement… it was like a dream come true.
Cameron dropped his shorts and pulled out his cock, letting its weight become apparent as it hung down between his legs. Coach Cox stared, practically hypnotized by his manhood, watching as it became full and engorged. Coach Rick took it in his hand, stroking it and getting the boy even more aroused while Cameron began to eye-fuck his older coach.
Cox was breathless, feeling his heart pound as his cock got hard watching his colleague feel up their young athlete. And when Coach Rick finally asked if he wanted to join in, Cox couldn't say no.
Cameron smiled and removed his clothes before walking over to Coach Cox. The older man let out a desperate exhale as he tried to stay calm, seeing the big dick coming closer and closer to him. Timidly he reached out and touched it, feeling its thick girth and length in his grip. He opened his mouth, slowly taking it in, then exhaled again as he held it in his mouth.
It was exquisite. So big and powerful, full of vitality. He let it fill his mouth as he moaned on it. As he did, Coach Rick sat beside him, waiting his turn for the boy's big, meaty cock. The two swapped back and forth, stroking their dicks as Cameron fed them his hard tool.
Coach Rick told Cox to bend over on the couch, directing his older partner to present his daddy ass to the young top. Coach Cox did as he was told, happy to relinquish his power to his buddy. Taking off his shorts and spreading his hole, he felt Cameron begin to tongue his delicate ass, making him moan with each enthusiastic lap of his tongue.
As soon as Cameron saw that Coach Cox was good and wet, the young stud stood up behind him and slid his cock between his cheeks. Cox felt the whistle swinging from his neck as Cameron began to enter him, pushing him forward as he gently pumped into his hole.
Coach Cox let out a deep moan as he felt the young top fill his ass, working his way in deeper and deeper. He looked to his partner, Rick, giving him an expression of thanks. Coach Rick smiled back at him, happy to do his buddy a solid, stroking his cock as he watched him get barebacked by their hot young stud.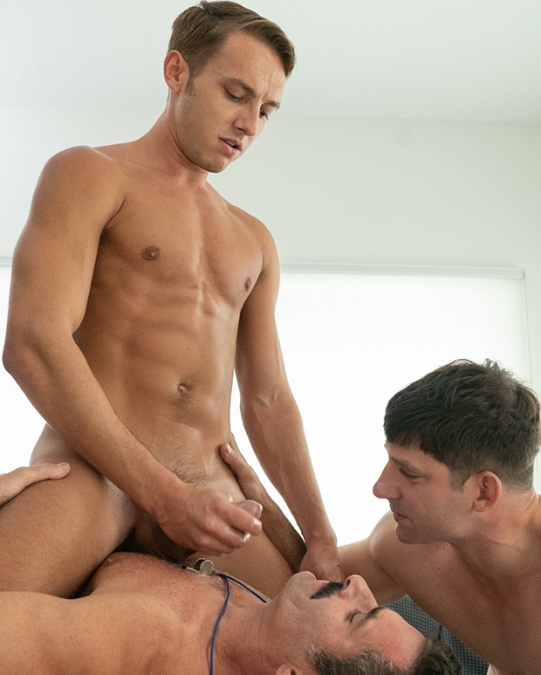 With his sparkling smile and lean body, Cameron Basinger is not only hung with heavy, club-like cock that's thicker near the head, he knows how to use his meat to really stretch a guy out. Cameron takes his physical fitness seriously and it shows in the form of ripped abs, tight muscles, a bubble butt built from a lot of squats. His torso sees a lot of sun from trying to catch coach's eye by always volunteering for the skins team during drills. Coach has always been his inspiration for fitness growing up and it's no wonder Cameron can be found staying late after practice to help clean up the locker rooms and set up for the next week's activities. That's also the perfect time to pilfer sports bags for jockstraps. He loves seeing the other guys flop around in their shorts after he's hidden their jocks. Cameron's had his eye on coach's bag recently and really wants to see what that bulge looks like out of its pouch. Maybe he'll take coach's jock for his own personal collection.
Coach Cox is quieter than the others. He's felt a little lost since his divorce, and he relies on his athletes to keep him focused. He admires the young, sexy players:They're at the peak of their lives, with big, swinging cocks and a passion for hot sex. He knows that being fucked hard by a young stud would shake him from his slump, and fortunately for him, the young jocks he coaches are more than happy to do their coach a favor!
Coach Rick has been training young boys in physical fitness and education for most of his adult life and he's fit for the job. He's a compact guy but a mass of thick muscle with arms and legs like corded tree trunks and big, expressive blue eyes that like nothing more than seeing one of his boys challenge himself and reach his greatest potential. It's all a mentor can really hope for. Recently though, he's been wanting something more… He's had his eye on one student in particular who seems to be trying to get his attention in rather unconventional ways. Not that he minds. Far from it. The extra help the boy gives him in the gym means more time to admire body the boy has purposely been putting on display for him. Coach Rick knows from seeing the boy in the showers that he's got a big dick on him and he wants nothing more than to show him how to use it… in his tight muscle hole.