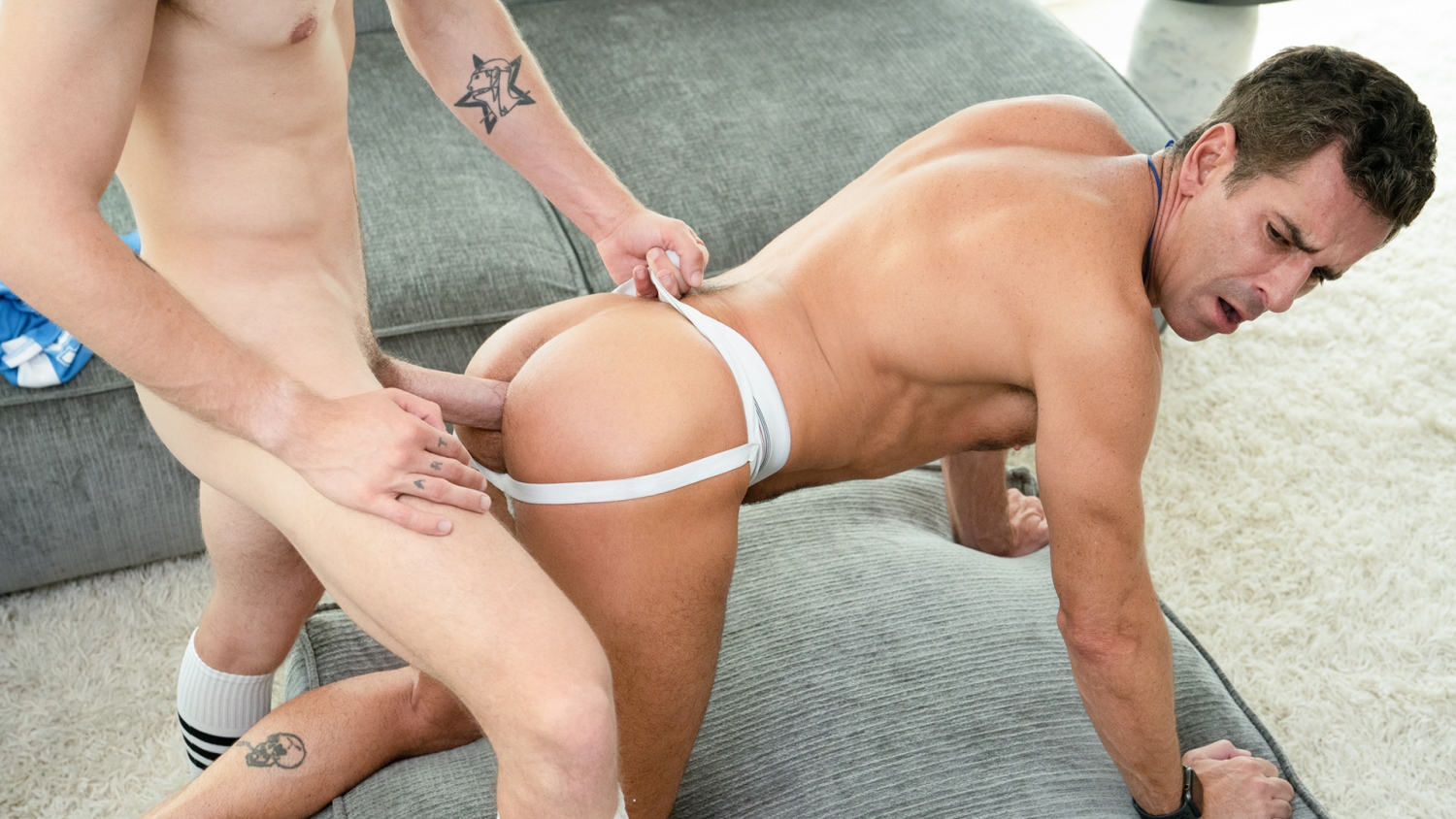 Top Training
Tom's a highly talented young athlete, a natural sportsman. Every coach in this college wants him on their team. Actually, if I'm being entirely honest, I think they're equally as eager to explore his talents off the football pitch! He's certainly one of those boys who exudes a kind of sexual power. And he's intrigued me since I first laid eyes on him. Then, of course, there's the matter of the bulge in his pants! It genuinely doesn't seem to matter what he wears, there's always a bulge—and it's always impressive. The on...ly question is whether or not he knows how to use it! I guess it's been a few weeks since I started to flirt quite openly with him. I'd flash him a few smiles, hold his gaze, use a bit of unnecessary physical contact. He seemed to take everything in his stride, however, and immediately started flirting back quite openly. In fact, it was Tom who suggested we go back to my office after the training session yesterday. We got into my office and almost as soon as I'd closed the door, he was all over me. As we kissed, I pushed him toward the couch in the corner. I loved the feeling of our bodies wrapped around each other. His tight, teenaged torso locked against my rock solid chest. He was plainly angling to take control, and I was in no position to fight back! Moments later, I found myself stripped down to just my jock and on my knees, dutifully sucking the hell out of the boy's giant, cut dick. He was moaning appreciatively and I was doing everything I could to make him groan even more. I felt entirely out of control. He pushed me down onto the couch and pulled my legs back so that he could get that talented teenaged tongue inside my hole. Before long I was buzzing. His tongue sent ripples of intense pleasure all the way through my body. It was like coming up on some kind of weird drug. It seems bizarre to admit that my body somehow needed his dick, but that's exactly how it felt. I just wanted more and more of him inside me. It wasn't long before he was feeding his huge dick into me and lemme tell you, it hurt like hell! I had to focus to regulate my breathing as he inched it in. It's been a heck of a long time since I've struggled so much to take a guy. I could feel my eyes widening and watering with the shock of it! Tom plainly wasn't at all interested in my comfort, because as soon as he was inside, he was thrusting. On my back with my legs in the air like that, I was helpless to do anything but go with the flow. Tom was squatting, looking down at me with a half smile on his lips, his powerful thighs helping to drive his enormous raw meat into me. He gritted his teeth and pushed his dick so deep inside, I could feel it slamming against my inner sphincter. The pleasure was remarkable. I grabbed hold of his smooth, round ass and pulled him further into me, squeezing my ass muscles around his dick. He told me to get on all fours, then pushed me down onto the footrest in front of the couch, spitting on my hole for added lube and lining himself up again. Then he was back inside me. It was so intense that I started to tap his thigh, hoping he'd go easy on me for a while, but he just pushed me down, repositioned one of my legs, and went in even harder. It almost felt like he was punishing me. Then he brushed my hand away as though to tell me he wasn't interested in hearing any complaints from me! He climbed up onto the foot rest so that he could fuck down into me and show me how powerful he really was. I could feel my hole getting sloppy with his spit and pre-cum and suddenly it was gliding in and out of me with no trouble. I was loose and ready for anything. He turned me around again so that he could look into my eyes. He held my legs and hammered into me. I wanted him to fill me up. I wanted every drop of his cum inside my tight ass. Then he told me he was gonna shoot… I could feel a fast-flowing river gushing into me as we kissed so passionately… [Read more]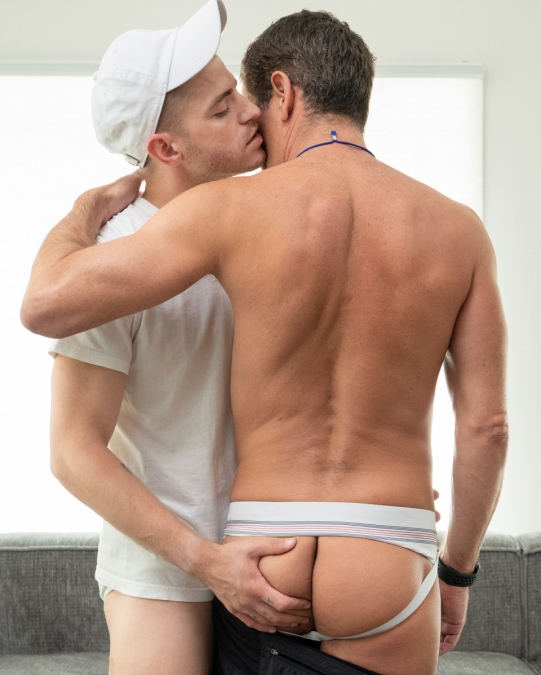 Coach Cox is quieter than the others. He's felt a little lost since his divorce, and he relies on his athletes to keep him focused. He admires the young, sexy players:They're at the peak of their lives, with big, swinging cocks and a passion for hot sex. He knows that being fucked hard by a young stud would shake him from his slump, and fortunately for him, the young jocks he coaches are more than happy to do their coach a favor!
Tom is a twink, no doubt, and the handsome young man is a cocksure stud who's never had a hard time getting what he wants. He works hard, plays smart, and knows how to use what he has. As a solid athlete, he knows the importance of keeping himself in shape and strong, but he knows nothing is more compelling than being focused and confident!

Even though he's not one of the biggest guys on the field, he knows how to take control and make even the older, stronger, broader guys submit to his seductions. He loves nothing more than fucking a handsome, older guy and he has no trouble finding a hot, hungry hole to breed!