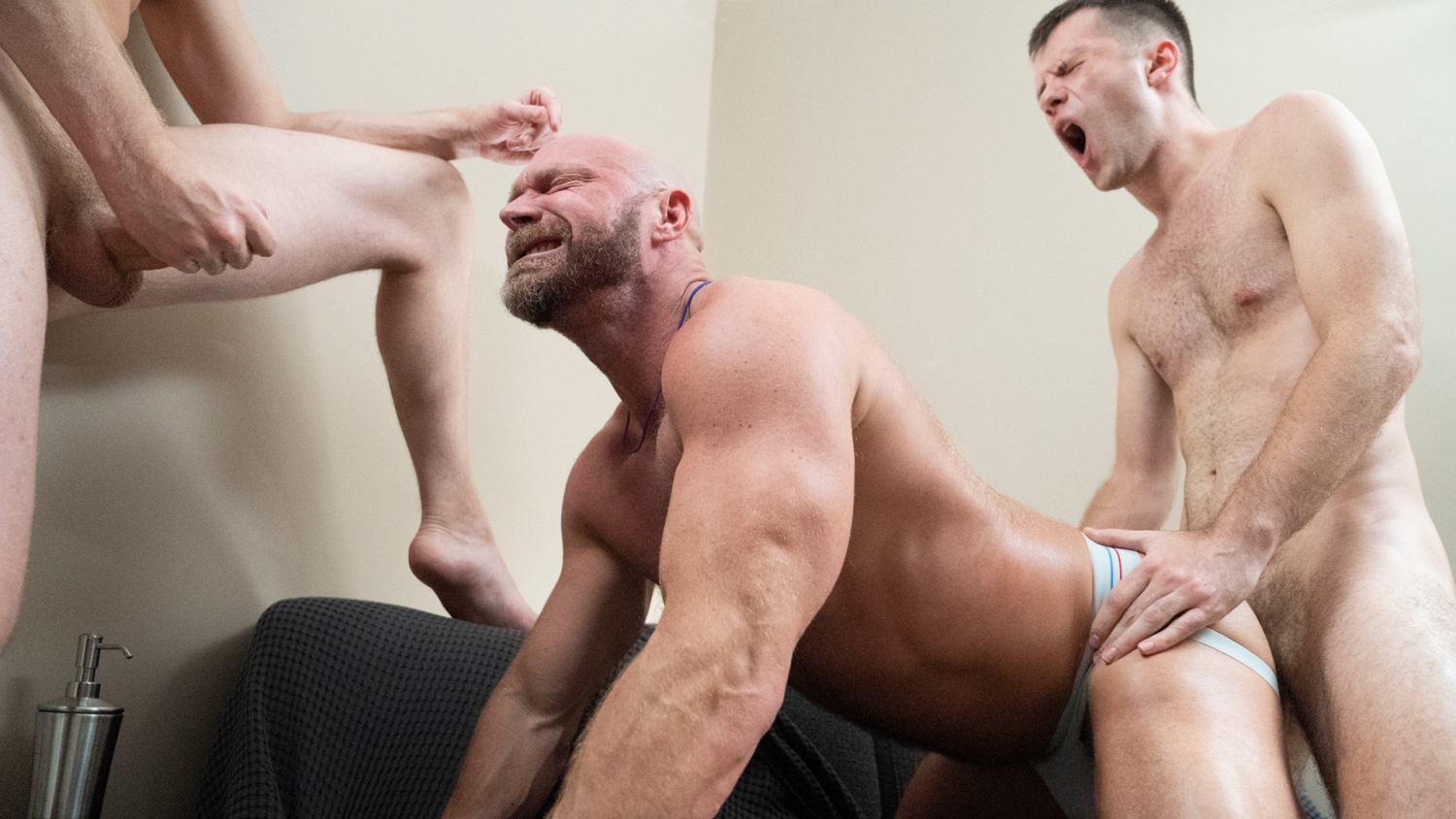 Team Massage
Coach Knox knew something was up when Maxx brought Cole in for a "massage." It was highly unusual for the athletes to come in together, and Maxx had already received the older man's special attention. Cole, too, was no stranger to the muscle daddy's bare ass and hole. Knox was amused by the young men's poor excuse for an extracurricular visit, but he did not mind seeing them. He loved having a close rapport with the younger athletes, happy that they felt comfortable enough to visit him for some fun. He certainly couldn't turn dow...n the chance to get their throbbing, veiny cocks up inside him and feel their cum pour all over him. He stripped off their clothes and took a good look at their heavy packages. The pouches of their jocks were overflowing with their swelling members, held up only by the narrow waistband of the underwear wrapped above their hips. Their tight abs and well formed muscles gave Knox a pleasant sight before he buried his face between their groins. He inhaled deeply and took in the fragrant aroma of their musky jocks. The boys had worked up a sweat before they arrived, either from the gym or from some scrimmage. Either way, it gave them a woody, potent scent that drove Knox wild. He pulled out their cocks, taking turns filling his mouth with their young meat. Knox was a horny pig when it came to sucking on jock cock, and these boys gave him plenty to feast on. They looked down as their sexy, shaved-headed coach swallowed their shafts, tugging on their nuts and getting them hot for more. Coach Knox wanted to have some fun, guiding the boys into position to mount one another for his amusement. The way Knox polished their poles got them ready to breed just about anything, and they were more than happy to take a turn on each other before giving it to the old man. Cole got on his back and spread his legs up and apart for Maxx to slide inside. Maxx looked to his coach for the go ahead, turned on by the lustful look in the muscle daddy's eyes. Knox wanted to see his enormous cock drill, and Maxx was ready to feel a tight hole wrapped around his meat. As he entered Cole, Knox couldn't help but take the bottom's shaft in his mouth once more. Seeing Cole's nine inches bouncing around between his legs as Maxx began to pound him made it all the more enticing. As Cole got his cock sucked and his hole pounded, all he could think about was getting his chance to breed some ass. Luckily, Knox made sure to give the boys equal time with each other. Before Maxx could get too close to cumming, he told the boys to swap positions and for Cole to push his monster meat in Maxx's untapped hole. Maxx could certainly take it as well as he could give it. Even with Cole's impressive size, he followed his coach's instructions and enjoyed the deep, penetrating feeling of his teammate pounding his prostate. It was intense to get the urge to cum from both the outside and inside stimuli. In the heat of the moment, he didn't know which he liked more. Knox's pride was soon overwhelmed by his own sexual hunger. Seeing the two boys taking dick made him more than ready to power bottom. Getting on his back and lifting up his legs, the older man gave Cole the chance to get between his perfect, muscular ass cheeks. Cole loved how the two mounds looked inside the coach's jock, especially how they split when his manhood pressed firmly between them. Coach Knox continues to take their massive monster cocks, feeling them pound in and out of his experienced muscle meat again and again. The two young guys take turns filling the older man's hole, even taking the opportunity to give him a much needed double penetration! In the end, all the coach wants is the seed of men half his age covering his neatly trimmed beard and his well stretched out sphincter. And these boys deliver for their hungry coach! [Read more]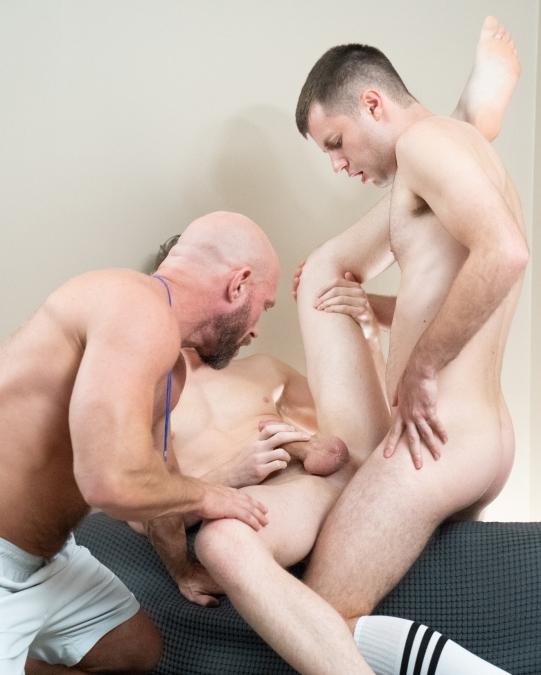 Coach Knox knows what he likes. And with his muscular body, handsome face, and powerful sex drive, he usually gets it. As a dom, he enjoys the power that comes from having control over his submissive. But that just means that when the tables are turned he knows exactly how to push his younger top's buttons to get the reaction he wants. And the reaction he always wants is more, harder, deeper. He knows that younger, slimmer men are too often underestimated. And he also knows how capable they are of throwing a hardcore, unforgettable fuck when given the chance!
Cole is a little bigger than most of his peers. He's tall, muscular, and blessed with a big, meaty cock! Not only is he a solid athlete, but he's also completely gorgeous. Both boys and girls have been trying to sleep with him his whole life, and he has no complaints about it.

The more he spends time with the boys at his camp, the more he feels himself hungry for something more. As a counselor, he's used to being in charge and getting his cock sucked by anyone he wants. But being around young, twinky guys all day, he can't help watching them; imagining their legs thrusting their bulging meat into his ass, filling him up, and dominating his hole. He jerks off thinking about it all the time, ready for a little guy to take control and fuck him good!

Baseball, football, wrestling—as long as Maxx is getting sweaty and physical, he's in! And that extends off the field too, where this young, hung jock is more than happy to flip the tables on the bigger men in his life and show them just what a twink top is capable of. Maxx is a cocky guy, but no one can argue with him about it because he's hot enough to warrant it. Every top daddy he meets is ready to drop to all fours for him. And that's just how he likes it.