Tag Team
The sexual energy of a healthy young man can't be underestimated or unappreciated. These guys are are at their physical peak and are surging with hormones and pheromones that make them eager to fuck. Tom Bentley is no exception.
The handsome jock ...
Read more
The handsome jock catches the attention of almost everyone he encounters, but the older male leaders at his school have a special liking for him. His principal and coaches, especially, can't get enough of his beautiful body and spirit, making them absolutely ravenous for the chance to taste his cock.
After Coach Cox told his colleagues of the amazing fuck he had with Tom, Principal Ballard and Coach Charger couldn't wait for a chance to give up their holes to him as well. Tom jumped at the opportunity to take on the three men at once, happy to play out his fantasy of being the top to a group of hungry, horny, handsome daddies.
Fresh from a practice and a bit worked up and sweaty, the three men immediately began to paw at the boy's body, feeling his youthful muscles as they got big whiffs of his musky scent. He had the woody fragrance of a champion, something that made them all horny as hell.
They pulled off his pants and underwear as he stood tall, enjoying the attention and worship that came from being the hot young top among them. He watched as they took turns swallowing his growing cock, tasting his tight hole, and kneeling around him like a king. It excited him to see these powerful, matured, muscular men all serving him.
When he ordered them onto the couch, he saw them obey him like they'd never done before. It was always his place to follow their orders and instructions. Now, these men would do anything he asked them to, all for the chance to get his hard cock and load up their holes. He couldn't help but admire them, still. He respected the hell out of these men, perhaps even more that they were bending over and showing him their big, firm daddy asses.
One by one, he gave them a firm squeeze. They had the size and strength of men who had worked hard all their lives; bigger and rounder than anything he saw on men his own age. As he slid his cock between Principal Ballard's muscular cheeks, he saw his cock disappear into his hole, feeling the administrator's hole wrap tightly around his unsheathed manhood.
It was unreal to be fucking his principal. All the times he'd thought about playing by the rules and making a good impression, he never once imagined it would lead to the older man whispering "more" through his deep, pleasure-laden moans. Tom kept looking down, holding his hips and feeling his balls swell up with cum. Whenever he looked up, he saw the proud gazes of his coaches encouraging him to keep going.
It was a heady experience, but one that Tom did not intend to end too soon. Pulling his cock out of Principal Ballard's hole, he proceeded to bend Coach Charger over in a similar fashion. The silver-bearded muscle daddy arched his back and presented his backside like he was made for fucking. And as Tom pulled off his shorts and saw his furry, round ass and tight hole, he knew that Charger had built himself a body exactly for that.
Coach Charger took Tom's bare cock with some difficulty, letting out a loud grunt as his hole split apart and took the young man's cock. He was tighter than Tom imagined, but his insides massaged the boy's shaft perfectly. Tom could have lost his nut right then and there, but he knew he had one more hole to go.
Seeing Coach Cox's smooth, toned ass positioned right beside Charger, Tom immediately flashed back to what it was like to fuck him before. He knew he could unload into him and give him every drop of his prime, youthful cum and he would still beg for more. Giving a few decisive pushes into his gut, Tom's cock once again dominated the older man's body, making him submit to his need to breed...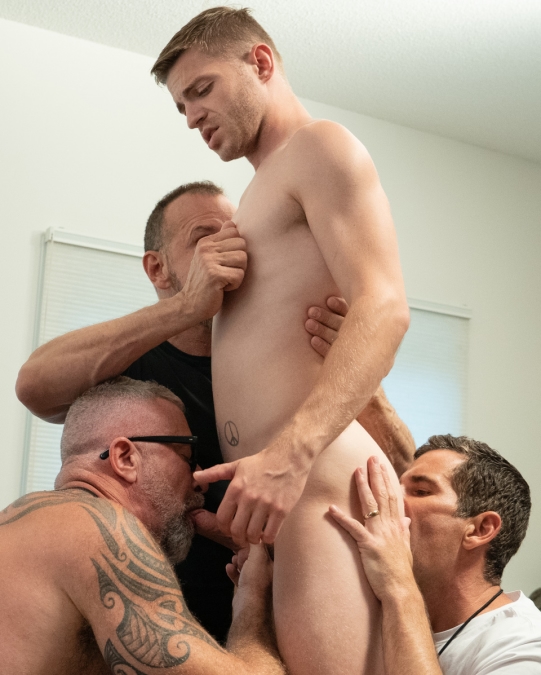 Coach Charger used to be a city slicker. He took early retirement and moved out to the country after the fast-paced life-style wrecked his marriage and he was forced to reappraise his life. This bear-like, seriously sexy, silver fox now works as a part-time sports coach and really enjoys inspiring the young men on his team. His charm, natural authority and big dick make him a natural top, but every so often, an assertive twink can turn everything on its head.

Coach Cox is quieter than the others. He's felt a little lost since his divorce, and he relies on his athletes to keep him focused. He admires the young, sexy players:They're at the peak of their lives, with big, swinging cocks and a passion for hot sex. He knows that being fucked hard by a young stud would shake him from his slump, and fortunately for him, the young jocks he coaches are more than happy to do their coach a favor!
Tom is a twink, no doubt, and the handsome young man is a cocksure stud who's never had a hard time getting what he wants. He works hard, plays smart, and knows how to use what he has. As a solid athlete, he knows the importance of keeping himself in shape and strong, but he knows nothing is more compelling than being focused and confident!

Even though he's not one of the biggest guys on the field, he knows how to take control and make even the older, stronger, broader guys submit to his seductions. He loves nothing more than fucking a handsome, older guy and he has no trouble finding a hot, hungry hole to breed!