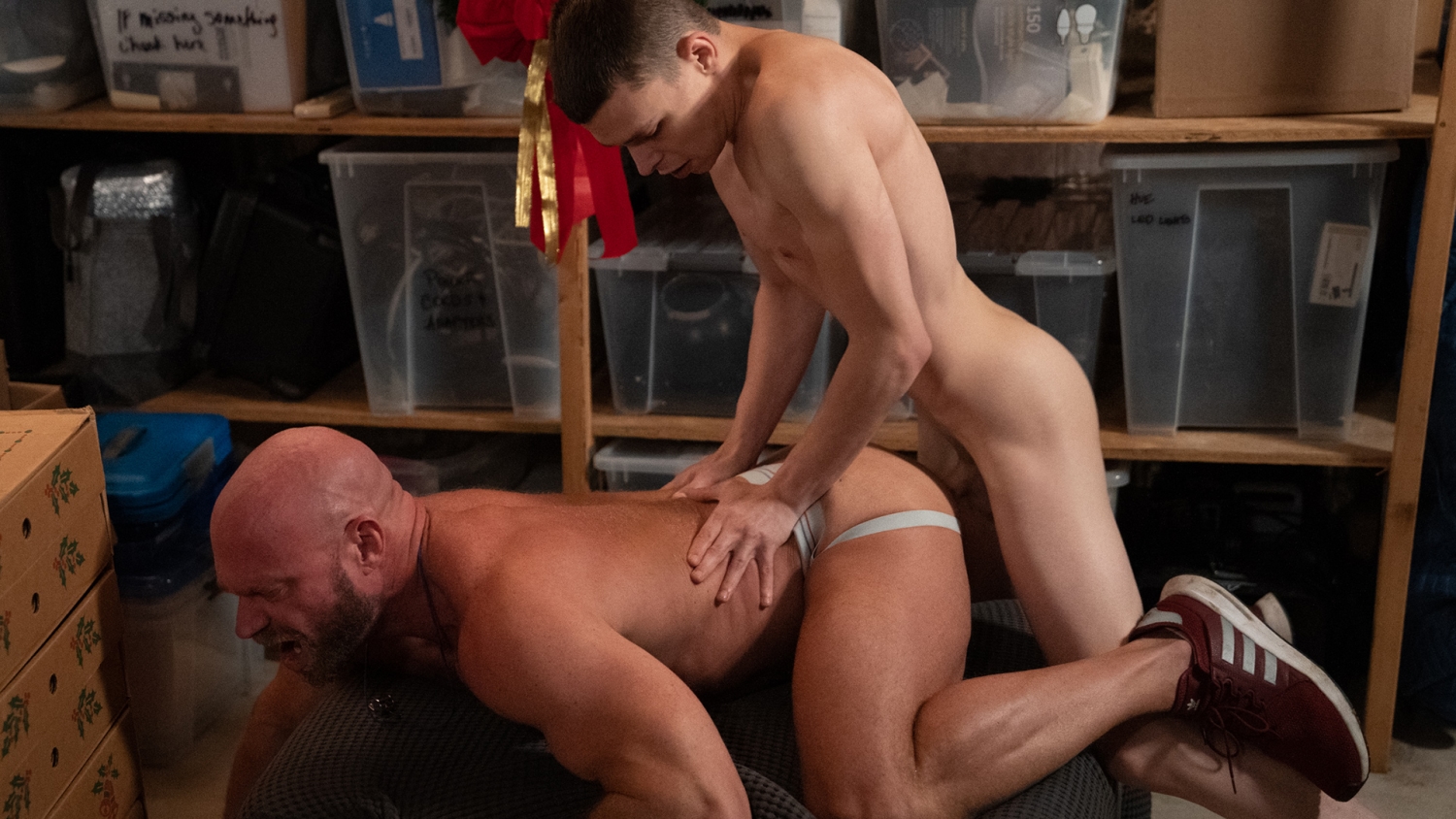 Stocking Stuffer
Austin Young is always looking for ways to help out. So when Coach Killian Knox asked him to assist in decorating the school for Christmas, the young twink was more than willing to lend a helping hand.
As they sort ...
Read more
As they sort out the tangled Christmas lights, Austin is curious about what the team gifts might be. "Stocking stuffers?" he asks innocently. Not quite, Coach Knox says, but maybe another kind of stuffing… the kind that Austin particularly enjoys, which involves him stuffing his coach.
With a reminder to be quiet, Coach Knox quickly peels off Austin's shirt and kisses down his hairless torso, groping his growing bulge. The slow build-up to sliding his cock into the older man's beefy ass is one of Austin's favorite parts of these encounters. Knowing that he will soon have the masculine man bending to his will is the ultimate turn-on!
Coach Knox soon has Austin's dick out and in his mouth, while Austin moans above him. He doesn't wait long to start fucking the man's throat, a sly smile spreading across his cherubic face as he watches his coach take him balls deep. Watching Coach's muscles flex as he kneels before him is a thrill, and Austin is soon leaking precum all over the man's tongue.
"Sssh we're at school!" Coach Knox reminds the horny boy before turning back to his dick. After more sucking, he stands up and starts making out with his star player before he strips down to just his old, worn jockstrap. Still in his shoes, he bends over in front of the school's holiday decorations to give Austin full access to his hole, which Austin slowly and reverently worships with his thumb and tongue before sliding the tip slowly and carefully into his coach.
Mounting the bigger man, the twink starts driving in deep and fast, feeling Knox's ass tighten around his cock with every thrust. Hearing the man breathing hard and grunting beneath him pushes Austin harder, and soon the room is filled with the sound of his balls slapping against his coach's ass.
"More," the muscle man whimpers, bent prone and taking Austin's cock like a good bottom. As Austin gets closer, his thrusts get longer and slower. Sensing that the boy is about to cum, Coach Knox begs him to fill him up. Austin complies, filling Coach Knox's ass with his thick load. Satisfied that he's given Austin a taste of what's in store for the holidays, Coach Knox carefully cleans his dick and then kisses the boy. Then they return to the task at hand: decorating the school for Christmas.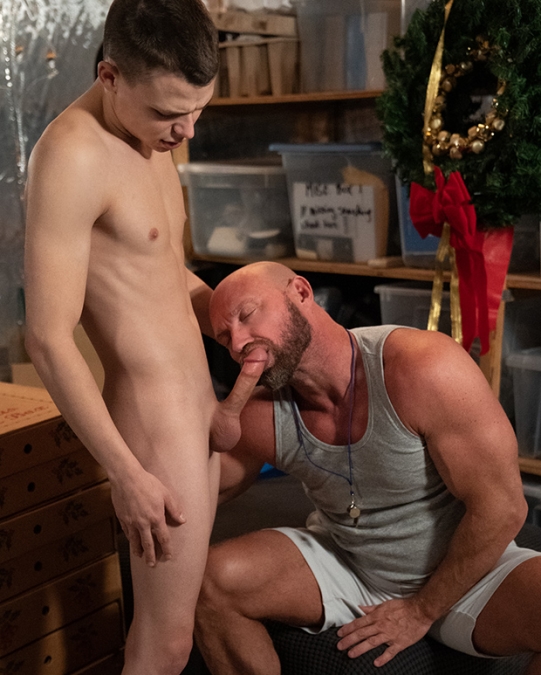 Austin is a sexy, little guy with almost no hair on his body, except for what grows on his head! And given how much he likes bottoming, he didn't mind the presumption that he would bottom whenever he had sex. He was, in fact, very happy taking big cocks up the ass! But despite stereotypes about his size and tight-bodied twink physique, one day while watching porn, he found himself unexpectedly getting turned on by the thought of topping.

Watching sexy daddies fuck smooth little twinks, Austin got horny for the big, muscle butts of the daddies. Even as they were fucking the whimpering little guys, he didn't just admire their strength and size, he imagined what it would be like to feel his cock slide into those beefy asses. And suddenly he wanted nothing more than to give it a try! Austin has had a lot of fun pumping young loads into sexy men who love taking a good pounding from this little twink top!

Coach Knox knows what he likes. And with his muscular body, handsome face, and powerful sex drive, he usually gets it. As a dom, he enjoys the power that comes from having control over his submissive. But that just means that when the tables are turned he knows exactly how to push his younger top's buttons to get the reaction he wants. And the reaction he always wants is more, harder, deeper. He knows that younger, slimmer men are too often underestimated. And he also knows how capable they are of throwing a hardcore, unforgettable fuck when given the chance!