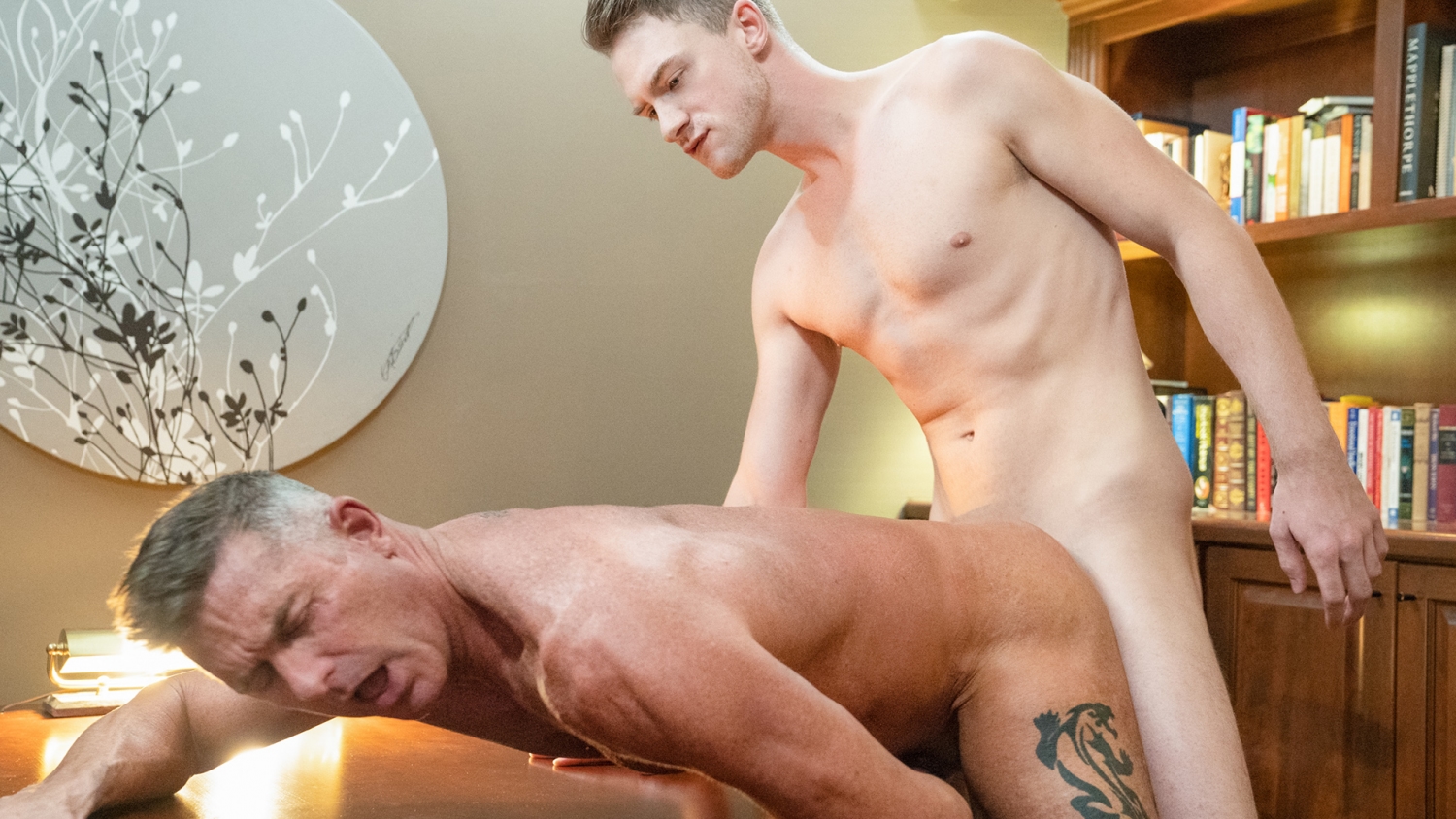 Principal's Office
The fact that Mr. Figata was married didn't curb the rumors. The principal's wandering eyes were proof enough for those who knew to look. The older man had a thing for hot, fit younger guys, and no matter what he did, he couldn't deny it. Cole and few others knew this. At first it was kind of funny, thinking of the horny administrator beating off in his office to the idea of sucking young, jock cock. But it soon became something of a permission slip for Cole to do as he pleased. Cole wasn't a rebel by nature, but as he got older, ...he began to question the rules that governed his day-to-day life. Some things made sense and he went along without issue. But things that seemed like a waste of time or a useless practice, he just didn't see the point in following through. Of course, this landed him in hot water with some of his teachers, but he knew that the worst that could happen would be him being sent to see none other than Principal Horndog himself. Sure enough, the day came when he found himself in the older man's office, face to face with the rumored admirer of boys just like Cole. Mr. Figata was strict and tough when he had to be, but he tried to use his bright smile and winning personality to level with his students. He found connecting with them was more effective than simply yelling. So this was his approach with Cole. Cole sat in a chair facing the principal, listening to him recount the list of grievances his teachers had with him. Cole was a little surprised that he'd managed to tick off so many people, but in his mind, his only crime was seeing the fault in the system. Why did he need to do dumb things that wouldn't help him or anyone else in any way? Mr. Figata could see he was having a hard time getting through to Cole, but he also knew from seeing him around that he was a good kid deep down. Perhaps a little big for his britches now that he was no longer a juvenile. It was natural for him to test out his independence and want to go against the grain, but the older man hoped he would play along while he was still a student. Cole, however, had a different idea in mind. The older man was saying all the right, professional things, but Cole could tell he was enjoying his company. Not only did he lean in further than he had to, but the older man kept flashing him flirty smiles. Cole knew what he wanted, and he thought he could seize the opportunity to get what he wanted in return. Cole suggested that Mr. Figata suck his dick. But not in an empty, meaningless come back. The offer was clear and real. Mr. Figata couldn't believe what he heard, so he asked Cole to repeat himself. "I know what you want," Cole continued. "All day you see young guys like me come in here. I know you check us out, thinking of our big, young, sweaty cocks, desperate for a taste. I've got a big one that I know you'd love… and I'm happy to give it to you. All I want in return is a little slack." Mr. Figata's face was beet red. He didn't know whether to throw Cole out of his office or take the offer. The boy was right. Mr. Figata loved nothing more than the idea of sucking a young guy's cock. He spent so much time wrangling and hollering and trying to discipline the cocky troublemakers that come to see him. When deep down all he wanted is to submit to them and get the fuck of his life. "No, that's not appropriate. I'm your principal and you can't talk to me like that." "Oh no?" Cole grabbed his bulge, holding onto a thick, concealed piece of cock that Mr. Figata's gaze quickly fell to. "I won't tell anyone… besides, I think you'd enjoy sucking it." Mr. Figata's mouth watered. He felt dizzy and confused, but the hunger deep inside him rose to the surface. It seemed crazy, but he couldn't pass up the chance. "Oh… I'm going to do more than that…" Cole smiled and stood up, giving Mr. Figata a glimpse of the raging hard-on in his shorts. Mr. Figata stood up and met Cole, standing inches from him. He could smell his youthful musk, flooding his senses with powerful pheromones that only made him even hungrier. Dropping to his knees, Mr. Figata's heart raced. He couldn't believe he was doing this, but he didn't want to stop. Cole pulled his cock out of his shorts, practically smacking Mr. Figata's face as it swung out of the waistband. Cole's nine inch tool was bigger than Mr. Figata imagined… absolutely perfect. Fearing his nerves would get the better of him, Mr. Figata dove in head first, swallowing Cole's member before he could come to his senses and walk away. Just as the young man's cock pressed between his lips and passed his tongue, he let out a deep exhale of relief. Fuck, this was what he needed. Cole's cock tasted so good. It was a little sweaty from his full day of classes, but that only made it even sweeter. Mr. Figata moved it further to the back of his throat, feeling the satisfying fullness of taking Cole completely, feeling the light brushing of the young man's soft pubes against his nose. Cole couldn't believe how well Mr. Figata could suck. He played with his nipples as he looked down at the salt and pepper daddy, dressed well in his work appropriate polo and pants, worshipping him and submitting to his manhood. It was a bit wild and weird, but he felt a rush of power surge through him that he didn't expect. At that moment, he was in charge. He was the boss. He was the dominant one in the room. And Principal Figata would do absolutely anything for more of his cock. It didn't take long before the older man was desperate to take off his pants and offer his hole to the young man. Cole felt himself getting closer to climax from the principal's amazing sucking skills. Frantically, Mr. Figata pulled off his shoes and socks, sliding off his trousers and revealing his naked body to his student. Mr. Figata hid an incredibly muscular body, well tanned and toned and smooth as fine leather. Cole was impressed with how well the older man took care of himself. He thought at first that his wife must love it, but then it clicked. This wasn't for her. This was for him. For the young guys he no doubt tried to get whenever he could. The idea made him even harder. This older, professional, respected man was deep down a cock-hungry pig for young, virile tops. And he prepared himself for the chance to be fucked. Mr. Figata bent his ass over his desk, breathlessly awaiting the moment Cole would take what was his. Cole spit on the tip of his meat, looking at the smooth, muscular globes of his principal's ass. So many times he'd seen it and thought it was just well shaped. Now, looking at it bare and poised to be fucked, it was one of the hottest things Cole had ever seen. He pressed the tip of his cock to the warm, tight sphincter of the older man. Mr. Figata let out a groan of pleasure as his face made a big, satisfied smile. It was happening. It was really happening. Cole pushed in a little more, feeling the older man's hole open to take him. It was hot and tight, wrapping around him like a wet velvet blanket. It felt so good that Cole could hardly pace his penetration. Moving in further and deeper, Cole felt Mr. Figata's insides massaging him, tightening and releasing as he invaded him inch by inch. Mr. Figata's finger clenched to the edge of the desk, gripping it for support as he took the massive cock, feeling the slight sting of the size but not wanting it to stop for a moment. Once Cole was in most of the way, he pulled back, beginning to slowly thrust his unwrapped cock inside his principal's body. He wanted to take it easy, giving Mr. Figata a chance to get used to him, but the older man seemed keen on taking even more. Feeling a bit charged up from his power, Cole picked up the pace, looking to see the older man wince or whimper. Instead, he reached back and held onto Cole's body, inviting him to fuck him even harder and deeper. Cole decided if he could take it, he wasn't going to hold back. He let loose and began to breed his principal with full force. It was so hot to be able to just think about his own pleasure and not worry about the delicacy of his bottom. Mr. Figata was clearly no virgin when it came to taking young meat and was grateful for every deep pounding he received. Cole wondered how many other students had found themselves similarly positioned in the office, a thought that made his balls tighten and his cock thicken up with desire. He gripped onto the older man's hips, feeling himself get close to cumming, but held off. He wanted to really enjoy the older man's body, and wasn't going to blow his load too soon... [Read more]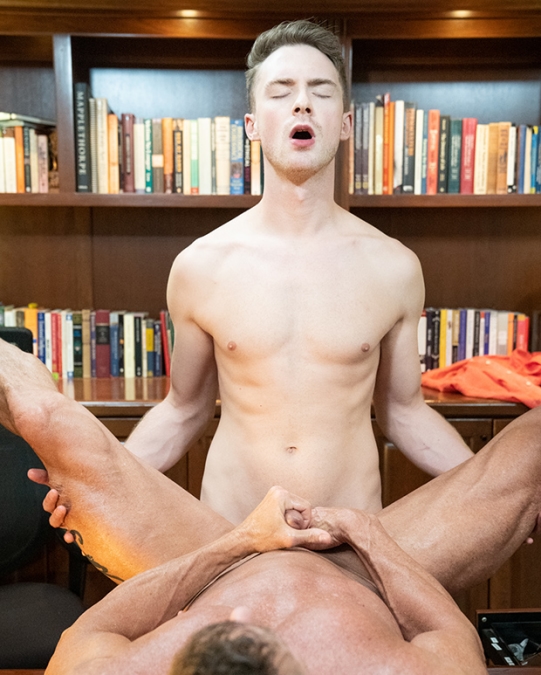 Cole is a little bigger than most of his peers. He's tall, muscular, and blessed with a big, meaty cock! Not only is he a solid athlete, but he's also completely gorgeous. Both boys and girls have been trying to sleep with him his whole life, and he has no complaints about it.

The more he spends time with the boys at his camp, the more he feels himself hungry for something more. As a counselor, he's used to being in charge and getting his cock sucked by anyone he wants. But being around young, twinky guys all day, he can't help watching them; imagining their legs thrusting their bulging meat into his ass, filling him up, and dominating his hole. He jerks off thinking about it all the time, ready for a little guy to take control and fuck him good!

Coach Figata knew the first time he put on a jockstrap that they would always be part of his life—and his sex life. That's one of the main reasons he went into athletics for a career! And his years of experience have also shown him how hot it can be to not only be the muscular, masculine daddy top, but also the hot muscle butt, masculine daddy bottom young twink studs want to explore, lick, and fuck. When he finds twinks ready to go balls deep in a tight hole, he's ready to show these boys his hot athletic muscle ass and see the boys naturally respond.