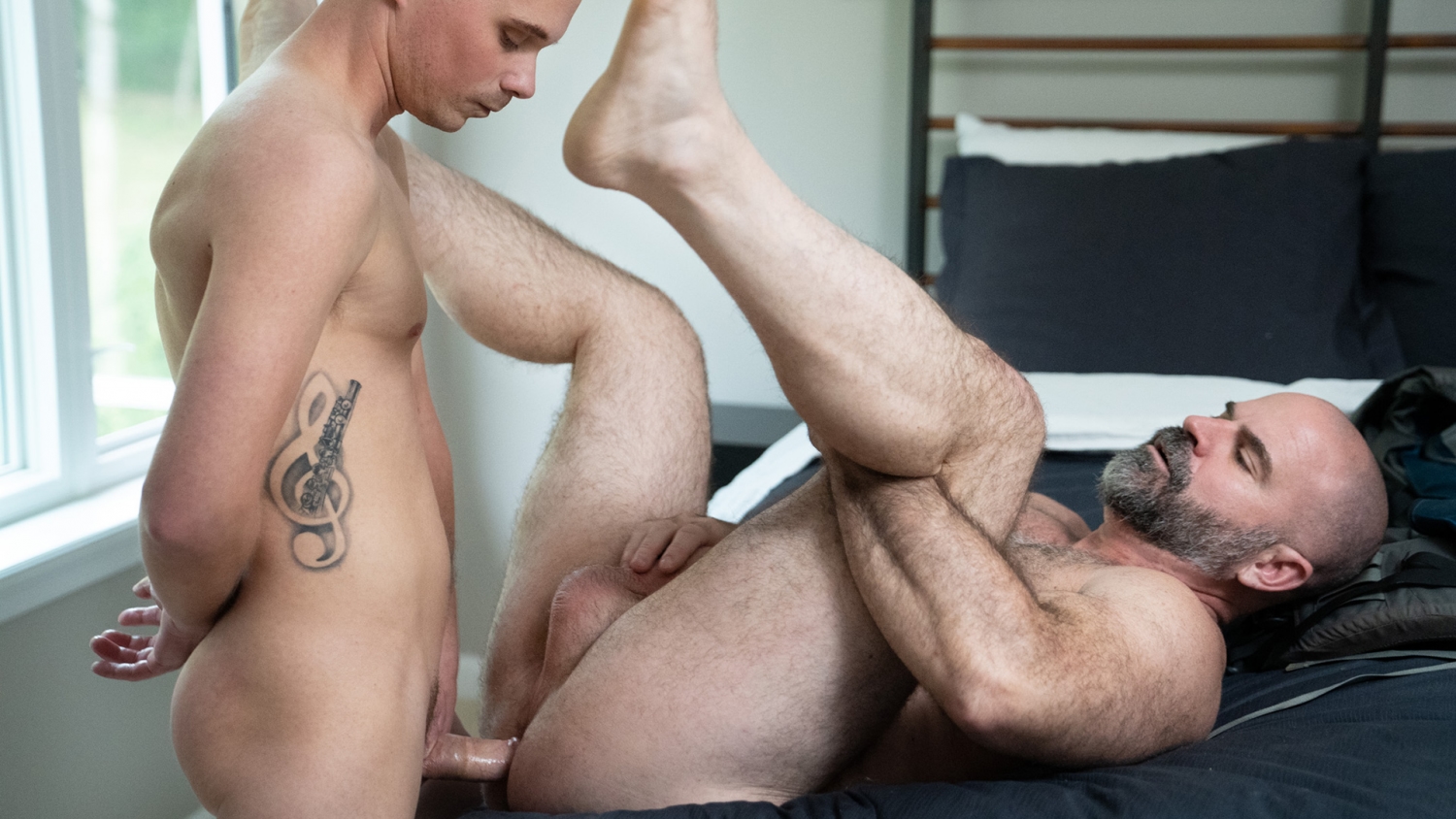 New Recruit
Mark was excited for his trip. The idea of going off with the team sounded like a lot of fun and a good way for them all to bond. Despite his enthusiasm, the one thing he didn't want to do was pack!
Going through his ...
Read more
Going through his list of items and gear, Mark felt himself becoming easily distracted. He would rather do anything than tuck jocks and socks into a bag. Before long, he was checking his phone, texting, and playing games before he'd even laid everything out on his bed.
When Coach Angus came to check on him, the beefy muscle bear was stunned with how far behind Mark was. He had an entire roster of rowdy, energetic athletes to get out the door and he didn't want to have to micromanage each one. Especially his own boy.
Still, seeing Mark's jocks hanging out loose in his suitcase, Angus found even he wasn't immune to distraction. Seeing the boy's lean body sitting on the edge of the bed, he couldn't help but imagine his athletic frame in action. Picking up his jock, Coach Angus asked his son to try it on.
Mark was confused, not quite sure why his old man needed to see it on him. All the players wore jocks under their gear and it's never been something they've had to show off. But not wanting to question his dad, Mark stripped down and put on the tight, elastic undergarment.
It was a little awkward at first. The feeling of having his cock hang out exposed made his face flush red. He could feel his dad's eyes on him, looking him up and down as he reached for the jock strap. He was a little embarrassed, but he was more worried about getting an erection in front of his dad!
There was no question that Coach Angus was a handsome man. With his bulging muscles, thick legs, and round ass, he was every boy's dream for a muscle daddy. He'd admired him for years and fantasized about seeing him naked, but never thought that he'd be showing him his cock.
As soon as Mark slipped on his jock, the older man did not hesitate in reaching out his hands to adjust it. Mark felt his masculine fingers tugging at the edge of the crotch, wrapping it around his nuts and teasing his shaft. He felt the stir of arousal in his loins, causing the inevitable swelling of his cock. As Angus moved around to the back, checking the straps' support of his buttocks, Mark knew he was about to pop an erection right then and there.
Coach Angus saw the boy's cock getting harder, smiling as he ran a finger along its length. Seeing the boy's desire on full display, he took the initiative to pull it out to give it room to grow.
Mark couldn't believe it. His old man was handling his cock, caressing it in his fingers and stroking it to full strength. It sent sensations throughout his body, making him leak precum out the tip of his shaft. Coach Angus dipped his head toward it, licking up the bead of fluid with his tongue, pouring hot breath over Mark's cock. It felt incredible, making Mark even hornier than he was before.
The two men tore off each other's clothes. Mark saw Angus' hairy, beefy body, full of power and strength. What's more, he got a glimpse of the round, muscular ass atop his meaty, massive thighs. Mark needed to fuck him. He needed to feel his cock in that warm, hairy hole.
Coach Angus could see the boy's hunger. He'd seen it many times before in other boys. But now, he felt a swelling of pride from deep within, making him eager to give his boy what he wanted. Forgetting about the packing, Angus pushed everything off the bed and got on his back, lifting his legs up for Mark.
Mark knew exactly what to do, mounting the bear bottom and sliding his cock between his cheeks. They were warm and firm, pushing back on him as he tried to penetrate his sphincter. Mark was shaking, excited and in disbelief that this was happening. But as the head of his cock made its way into Angus' hole, he let out a moan of pleasure, overtaken by how amazing it felt to be inside his coach. He thrust his hips back and forth, feeling the heat of the daddy's body massage his cock, bringing him closer to cumming with every move...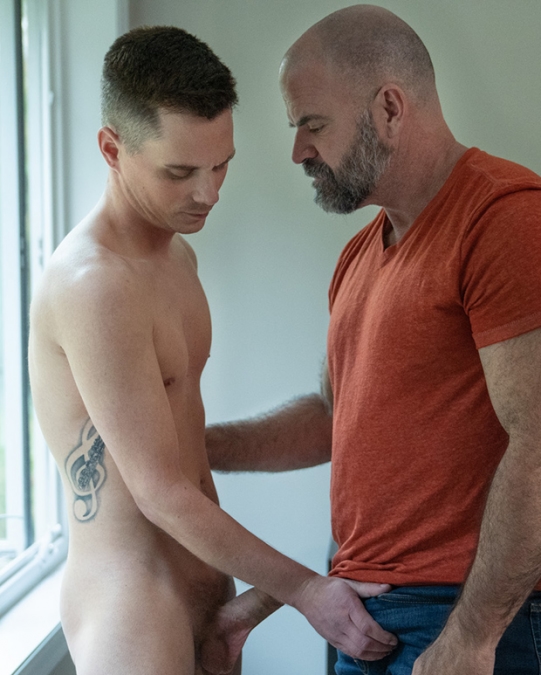 Coach Angus is all about guidance and training. He loves being a father figure to many of the young guys he works with each year, hoping they know that they can come to him for any reason. With his big, furry chest, beard with hints of salt and pepper, and massive legs, he's often seen as a big muscly teddy bear. And while he's happy to smack their asses as they come off the field, most of them can't help but wish for more. Indeed neither can he.

He fantasizes about his young, smooth players building up a sweat as they play their hardest! He sees these young guys as being in their prime, ready to take on the world and try new things. He can't help but sniff their sweaty jocks, thinking of their cocks getting hard after a good game, needing something to fuck and release into. He fantasizes about his players loading up his strong, hairy, muscle ass, and showing his boys a good time. After all, he's their coach, and he's going to be there for whatever they need!

Mark is an All-American boy. Handsome, active, friendly, and fit. He works hard and trains even harder, making him a perfect specimen of discipline and athleticism! And like all other all-star athletes, he needs to decompress after an intense week! With his testerone fueled up and his jock getting tight, nothing gets him worked up like a big, manly ass on older daddy. Seeing his sexy coach in his short shorts and whistle makes him rock hard, desperate to fuck and bust out a load. He's done all he can to make a good impression with him, hoping to get what he's earned!