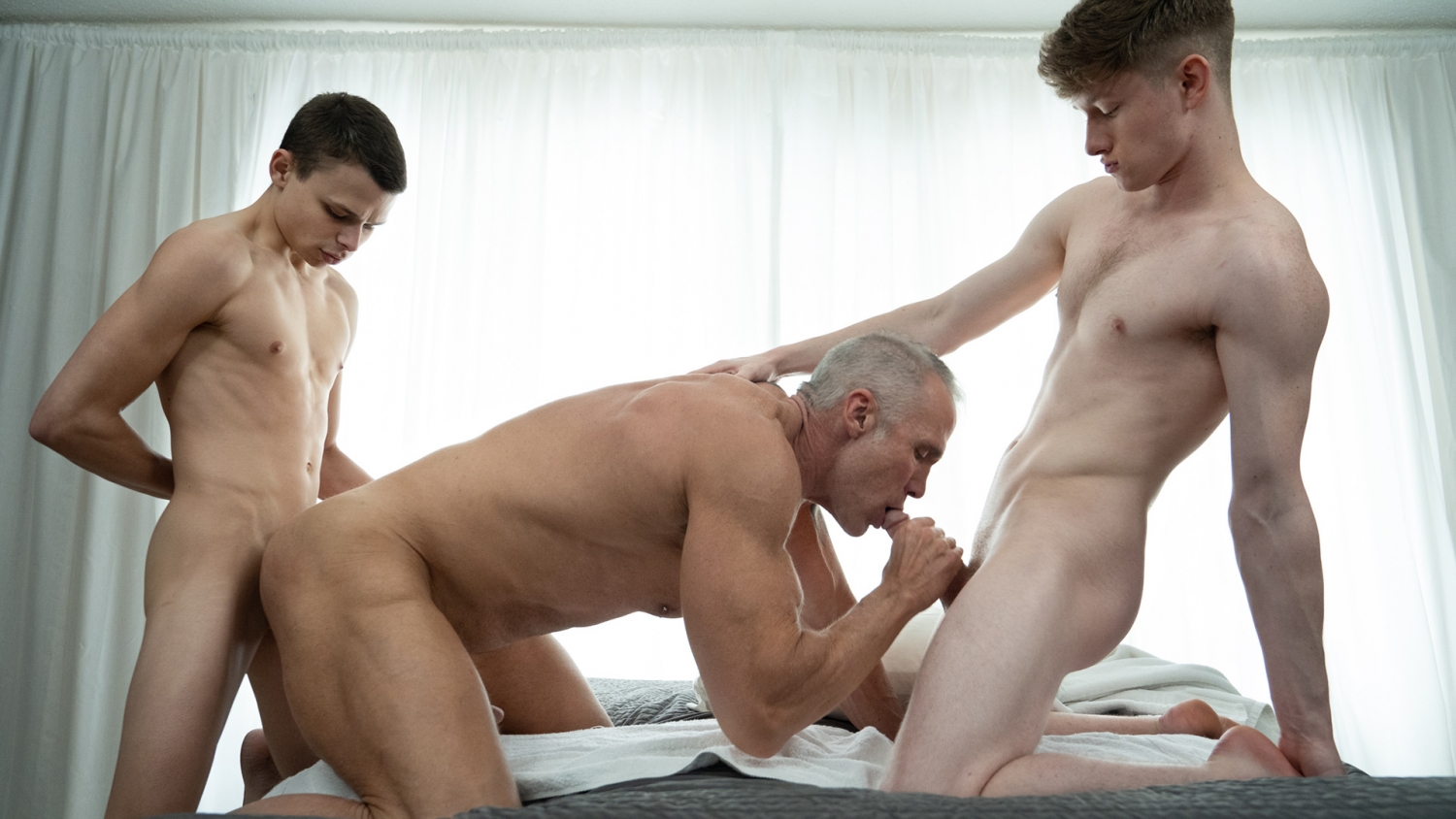 Extra Innings
Sports Camp can be hard on the body of a young twink, and that's why it's important the boys find time to relax and unwind. When they're not training their bodies on the track or in the field, the horny men that run the place are begging to get fucked by twinks like Austin and Felix. That's a workout in itself, albeit a far more enjoyable one with significant benefits they are only beginning to understand. Getting off is great, but having your coaches and mentors wrapped around your hot, young cock is even better. The best boys get access to some of the luxuries the camp has to offer, like the private cedar sauna, usually reserved for staff.
Finding themselves alone ...
Read more
Finding themselves alone here after a long day, Felix and Austin decide to fool around a bit. It's not often two boys find themselves alone together at camp. They are usually in large groups running drills, rushing through meals, and spending downtime sleeping to recover from all their hard work. Being alone is an opportunity they aren't about to waste.
As the boys make out, their hands wander. Felix feels the firm muscles of Austin's pecs while Austin explores Felix's crotch. At first it seems like innocent fun, but the boys are horny as fuck. They've seen one another naked at least 50 times and since camp started, and they've fucked their coaches and Director Steele together, but now they get to enjoy one another for a change and the eagerness electrifies the air as they bite their lips and reach into one another's towels. The plush fabric just gets in the way, and there's no hiding their boners anyway.
Shortly after they open their towels for one another, Director Steele steps into the sauna. "Hey boys. Make some room," he says. Neither of the twinks are embarrassed at being caught with their cocks out. When the director is around, it's actually not that uncommon for dicks to be set loose at full attention. Both smiling, Austin and Felix slide apart to let the huge, musclebound camp director slide onto the bench between them. The twinks immediately start rubbing the man's pillowy pecs, and Director Steele makes out with both of them in turn. Felix is the first to grip the man's huge cock and kneels in front of him to suck the big meat while Autin makes out with Director Steele. Felix almost makes it to the root of the director's cock, deep throating the thick shaft as far as he can. The director's manhood is big enough for both boys to grip it with the head still in Felix's mouth!
Felix comes up for air and Austin gets his mouth on the cock. The little guy gags when he deepthroats the man, but Director Steele gives him praise for how good it feels. The only thing better than two cocks is three, and the boys tackle the director's dick together, making out with the thick shaft between both their mouths.
Director Steele invites the boys upstairs to somewhere more comfortable. With their hard cocks straining the constraints of their towels, the threesome makes its way to the director's bedroom. The passion quickly resumes with the director laying back on the bed, a sexy twink on either side. They pick up exactly where they left off, taking turns on the director's big package.
Austin decides he wants some action of his own, and puts his cock in Director Steele's mouth. Felix wants to see his own cock up against the director's and grips both their cocks together in one hand and starts jerking. Inch for inch, Felix's boner is about the same length as Director Steele's, though not as thick. It certainly has the director turned on, and soon he's asking to get fucked by it.
Both of the boys have messed around with Director Steele in the past, and they know he can take a pounding. With the man on all fours, Felix lines up behind him while Director Steele gets a mouthful of Austin's cock. The minute Felix plunges in, he starts pumping hard and spanking the man. The director is moaning and gasping on Austin's cock while he gets nailed by young Felix. The top can feel Director Steele gripping down hard on his cock with his hole, and decides to give Austin a turn before he cums.
While Austin mounts the man, Felix puts his cock right in the director's mouth so the director can taste his own ass. The boys are soon making out over the big man's body as they spit roast him.
The boys swap positions again so Felix can eat the silver daddy's hole as deep as he can while Austin squats on the man's face. Then Felix is once again longdicking Director Steele fast and hard, slamming home to deliver his load as deep inside the director's hole as possible. After a few hard plunges, Felix pulls out, drawing a significant amount of cum with him.
All lubed up for his next shot of boy juice, Director Steele is mounted by Austin, who churns Felix's load in the man's hole before adding his own with a shuddering, whimpering moan. When he pulls out, the added cum floods out of Director Steele's used sphincter. The boys kiss over the moaning body of the muscle man beneath them and then share kisses with the director, certain that they have earned further privileges around camp.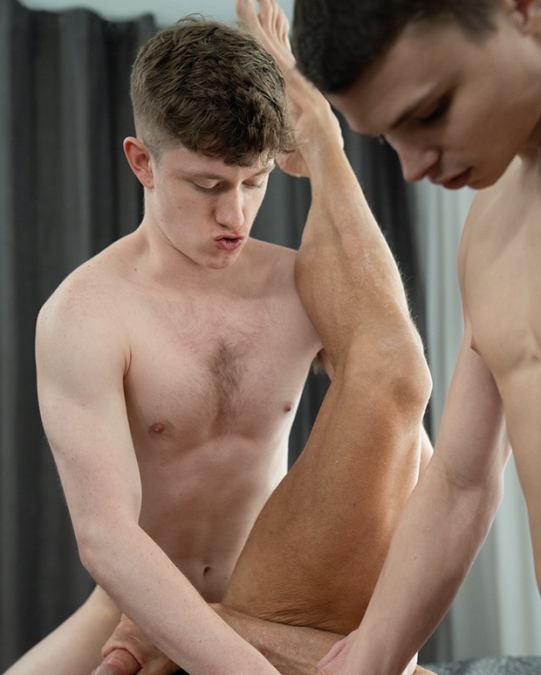 Austin is a sexy, little guy with almost no hair on his body, except for what grows on his head! And given how much he likes bottoming, he didn't mind the presumption that he would bottom whenever he had sex. He was, in fact, very happy taking big cocks up the ass! But despite stereotypes about his size and tight-bodied twink physique, one day while watching porn, he found himself unexpectedly getting turned on by the thought of topping.

Watching sexy daddies fuck smooth little twinks, Austin got horny for the big, muscle butts of the daddies. Even as they were fucking the whimpering little guys, he didn't just admire their strength and size, he imagined what it would be like to feel his cock slide into those beefy asses. And suddenly he wanted nothing more than to give it a try! Austin has had a lot of fun pumping young loads into sexy men who love taking a good pounding from this little twink top!

Director Steele is an important man with a lot on his mind. He runs a busy athletic camp that constantly needs his attention. Not only do the young men themselves need assistance, but the hot, young crew he's hired also need his guidance and attention! The only thing he rarely has time for is getting his own needs met.

As a handsome, tall, muscular silver daddy, he's used to having young guys practically beg to have their asses fucked hard by his big daddy dick. But sometimes, he just needs a smooth, lean top to help him relax by pounding him bareback hard and breeding him deep!





Felix is the classic, all-American clean cut young man. He loves anything that makes him sweat, whether it's sports, going to the gym, or getting in a good fuck! Because of his smaller stature and smooth physique, most guys think he's a total bottom. While he enjoys a hard cock up the ass now and then, he loves nothing more than the feeling of his own young meat sliding inside a tight, hungry hole...bareback.

The smooth young top loves feeling his shaft move in and out of a warm, wet ass, feeling it tense and relax as he pumps himself closer and closer to blowing his load. Plenty of guys flirt and approach him for sex. And more than a few hunky guys hope he's willing to top. Felix loves the attention from handsome older guys eager to take his bare jock cock!