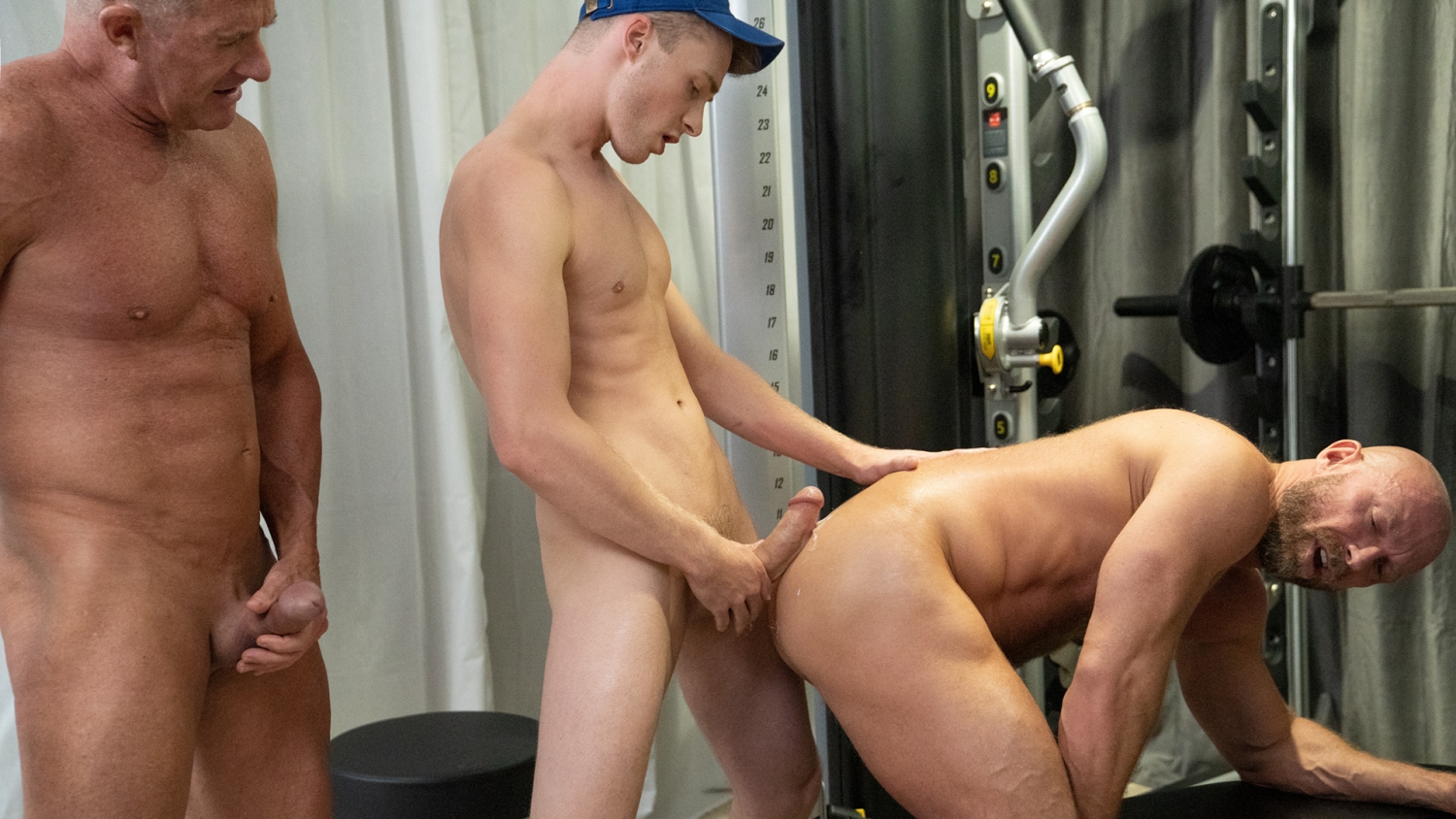 Blowing Off Steam
Cole is an exceptional athlete. Not only is he gifted with speed, strength, and agility, he's also clear headed and focused whenever a challenge comes his way. He's a model for the other players and well on his way to varsity! Unfortunately, spots are limited and it takes more than just a winning attitude to make it on the team. During one of his guided exercises with Coach Knox, he was surprised to see the handsome Principal Figata come into the weight room. It was very rare to have anyone from the administration show up during practice...s or workouts, especially given their busy schedules and demanding jobs. But the principal had taken a special interest in the athletic department… Cole in particular. Coach Knox let Cole know that the older man was eyeing for a spot on the varsity team, but he'd have to be able to vouch for him from first-hand experience. Cole and Figata weren't at all strangers to one another, having shared sweaty group action with a few of the other players. But Figata only got a sample of what Cole was capable of before. Now, he wanted to see just what a star athlete he could be. Coach Knox was clear that Cole was representing both the coach and the team, not just himself. Cole understood he was supposed to make a good impression, hiding excitement, nerves, and growing erection. As much as he wanted to make varsity, he couldn't forget how good the principal's mouth felt on his cock. And after the workout coach had put him through, he was ready to blow off some steam. Principal Figata remarked how good Cole looked, feeling his chest and muscles as he complimented the coach's regimine. It was true that Knox pushed all his athletes hard, but few took to it like Cole. The principal asked Cole to take off his shirt and pants, hoping to see more of how he'd been developing. Cole was a little embarrassed, feeling like a piece of meat being inspected by his two clothed superiors. They'd both seen him in various states of nakedness, but never together, and never in their team's gym! As Cole removed his sweatpants, his throbbing cock became too hard to hide. It practically broke through his tight, blue jockstrap. Figata was very pleased, feeling his smooth, athletic frame, urging him to remove the last bits of cover he had. Cole complied, stripping completely naked and standing for the two men to grope him. He didn't really know how to respond, but he began to love the attention they gave him. The two muscle daddies dropped to their knees, impressed with Cole's appearance and the massive cock that pushed forward from his hips. As if he wasn't there to hear it, they talked about him, saying how well suited he was for the varsity team… and how much they loved his big meat. They took turns taking it in their mouths, slobbering over his manhood as they began to strip down as well. Cole loved seeing the handsome daddies worship him, eager to taste his shaft, swapping it back and forth and moaning on the end of his cock. It had been so long since he'd gotten a good blowjob, and these men were experts in the field! Cole felt himself gaining more power with each gag of their throats. They were hungry for him. Horny to be dirty little slut bottoms for their star athlete. And all Cole had to do was give them all he had! Before Cole knew it, all three of them were naked, smelling of fresh sweat and sex as they felated his member to the point of leaking. Cole could have cum right there in his principal's mouth, filling his throat with his strong, jock load. Instead, he bent the man over the weight bench, letting him find his grip on the soft platform as he teased his hole with the tip of his dick. Principal Figata let out a desperate moan. He loved the smooth feeling of Cole's cock head sliding over his hole. It puckered open and closed, as if trying to suck the big shaft inside. Cole looked down at the hungry hole, horny as hell to see himself disappear inside his smooth, muscular cheeks. As he spit down on the tip of his dick, Coach Knox stood beside him, placing a hand on his shoulder. "Make your coach proud," he whispered, giving Cole the okay to begin breeding the older man. With that, Cole slid his veiny, throbbing cock deep into the velvety guts of his principal. Figata let out a moan from deep in his belly, clenching his teeth and gripping the bench as he felt every one of Cole's nine inches pushed inside. Figata was no first-timer. He could take it. And, boy, did he love it. "That's it, son. Show me you're varsity!" Cole pounded away, massaging his cock with Figata's sphincter, trying to meet his demands for a harder and more intense fuck. He loved it. He loved being the object of desire for these two horny daddies. And what's more, he found them beyond sexy! As Coach Knox cheered him on, all Cole could think was that he had to hold out his load long enough to give the handsome man a ride on his cock as well! [Read more]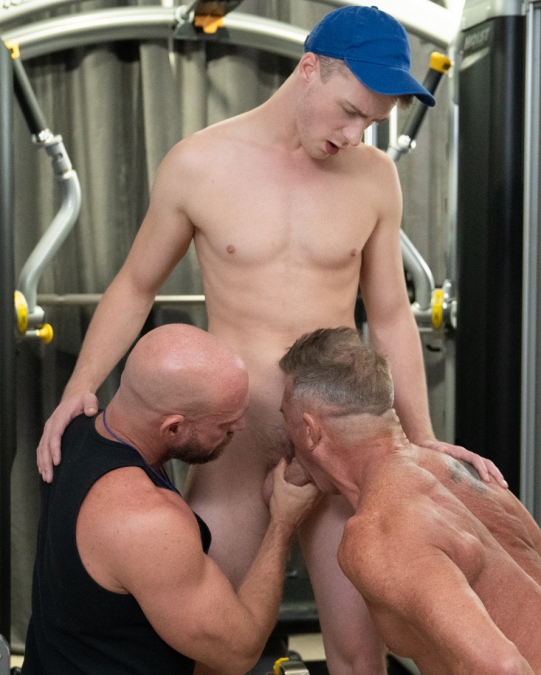 Coach Knox knows what he likes. And with his muscular body, handsome face, and powerful sex drive, he usually gets it. As a dom, he enjoys the power that comes from having control over his submissive. But that just means that when the tables are turned he knows exactly how to push his younger top's buttons to get the reaction he wants. And the reaction he always wants is more, harder, deeper. He knows that younger, slimmer men are too often underestimated. And he also knows how capable they are of throwing a hardcore, unforgettable fuck when given the chance!
Cole is a little bigger than most of his peers. He's tall, muscular, and blessed with a big, meaty cock! Not only is he a solid athlete, but he's also completely gorgeous. Both boys and girls have been trying to sleep with him his whole life, and he has no complaints about it.

The more he spends time with the boys at his camp, the more he feels himself hungry for something more. As a counselor, he's used to being in charge and getting his cock sucked by anyone he wants. But being around young, twinky guys all day, he can't help watching them; imagining their legs thrusting their bulging meat into his ass, filling him up, and dominating his hole. He jerks off thinking about it all the time, ready for a little guy to take control and fuck him good!

Coach Figata knew the first time he put on a jockstrap that they would always be part of his life—and his sex life. That's one of the main reasons he went into athletics for a career! And his years of experience have also shown him how hot it can be to not only be the muscular, masculine daddy top, but also the hot muscle butt, masculine daddy bottom young twink studs want to explore, lick, and fuck. When he finds twinks ready to go balls deep in a tight hole, he's ready to show these boys his hot athletic muscle ass and see the boys naturally respond.